Vassilio Flies Solo
Senior Vassilio Georges works to get his pilots license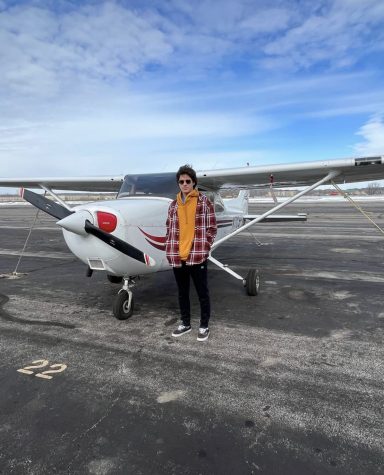 Most teens spend their junior year studying for the ACT and looking at colleges, but Vassili Georges (12) took his first discovery flight in January of 2021 and instantly fell in love with the aviation community.
"In the summer of 2021, I got involved in Experimental Aircraft Association (EAA), there's a chapter in upper St. Charles and being involved with them has given me a scholarship, given me more flights with people who are in the chapter and because of that I've now started to get my private pilot's license," Georges said.
Georges plays volleyball and has an active role in the Central community.
"I have to work in tandem with homework and sports and clubs, and all that together kind of adds up, but I work really hard to get everything done," Georges said.
Joining EAA has allowed him to participate in the flying of recreational aircraft with other passionate aviation enthusiasts. Georges hopes to fly everything from private jets to helicopters with his licenses.
"The most challenging part is where I'm at right now because I'm new going into a brand new subject, in which I have to master before you move on," Georges said. "It's a lot of learning comprehension because you have to learn things inside and out before you can move on to the next step and I'm also trying to get my license before college."
Georges has made tremendous progress from his first discovery flight and finally had the opportunity to fly solo.
"I was definitely a little nervous, but there's been plenty of instances that have simulated engine failure or anything that could've happened," Georges said. "I've gone through all the emergencies and things like that so, to be honest, I was pretty ready. I was ready to get it done and it was a nice day out, not too many people out flying as well, but in the end I knew I had it under control."