Been There, Run That
Win after win, this girl's track season will be one for the books
Breaking more records than ever, this season's girls' track team is dominating their competition. With win after win and multiple girls breaking decades-old school records, it's safe to say that the 2022 season will be one for the books.
Nnenna Okpara (12) has been going strong this spring, running a PR (Personal Record) in the 100 at 12.39 FAT (Fully Automatic Time), hitting a district plus standard for only the 4th time in school history.
"The track season has been going great so far," Okpara said. "We're in the middle of the season when people start to PR more, and you can tell who really takes track seriously and who is hungry to go and win the state championship this May."
Running along with Okpara, Skyye Lee (10), Kayelyn Tate (12), and Mychael Green (11) broke the meet record for the 4×200 on April 22. Okpara has several other accomplishments going for her as well, including breaking her own school record at a meet on May 1 in the 400 with a time of 56.17. Even still, she has even bigger goals for herself.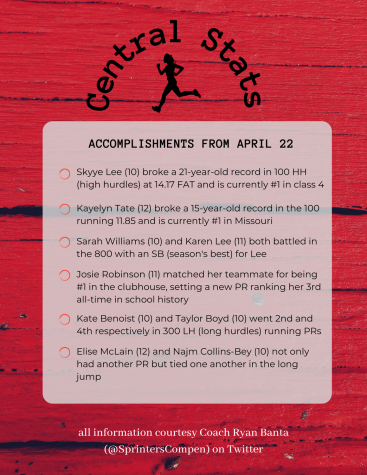 "My goals for the season are to lower my times in the 400 and the 200, win state as a team and just continue to work hard and finish the season off strong," Okpara said.
Getting into the swing of routine proved a bit of a challenge for the girl's track team, but after persistence and working to get the kinks out, Okpara feels that everyone on the team is where they need to be in order to be the most successful out on the track.
"Compared to last year our team stats are pretty much the same," Okpara said. "Our 4×200 relay is still exceptionally good, and a lot of girls have figured out their main events and are starting to improve times and thrower's distances."
Despite a nearly perfect year for the track team, though, nobody is without their challenges, and it's working through those setbacks that builds athletes.
"I think my biggest challenge this year would be getting my block starts in good shape," Okpara said. "They're not my strongest area when it comes to my races, so working on that is something I prioritize."
As a teammate, Okpara's dreams go beyond herself. She wants to win for her team, as well as for the head coach of track and field, Ryan Banta. Not only that, but as a senior, she really wants to go out with a bang this spring and make her last season count.
"For the rest of the season, I am looking forward to spending time with my friends for my last high school season, hopefully being all-state in my events," Okpara said. "What I am really looking forward to is going to state and hopefully winning it, not only with my teammates but for Coach Banta, too."
Central is not only thriving in the sprints, though. Throwing events, led by Coach Ali Ghasedi, have also been full of accomplishments and record-breaking stats. Jadyn Wallis (12) won the discus and shotput at the meet on April 22, which was a PR. She also finished second in the javelin and is now the second all-time in school history in that event.
Ghasedi feels that with Wallis and other phenomenal throwing athletes, this season's team is one of the best he's ever coached in his 20 years of coaching track.
"This season, we have competed at a very high level at the varsity, JV, and freshman levels," Ghasedi said. "We are a well rounded bunch, with strong competitors in every event and are capable of scoring triple digit points at every meet."
With a goals of getting throwers on the podium at State this year, Ghasedi really just wants to make this year count.
"I think this team has some 'unfinished business' from last season," Ghasedi said. "We finished second in state last season by five points and I feel this team is very hungry to win it all this year. The season is not all about winning and losing, but to be a better person at the end of the season than you were at the beginning."
By staying healthy, avoiding injuries, and overall keeping up the great positivity and spark that the team has been showing all season long, all of the coaches and runners both know that this year's state meet could very well be the best one yet.
"I am really looking forward to some nice warm days where our kids can perform at their peak," Ghasedi said. "I am also looking forward to some the state championship and seeing our kids shine."