Ushering in New Faces
New teachers fill in empty positions in a national teacher shortage
Emma Li, Co Editor-in-Chief
October 19, 2022
Research has estimated that in the US, between 35,000 and 50,000 full time teaching positions are unfilled, with roughly 5% of the existing pool of teachers teaching without certification or outside of their subject area. In the last two years, enrollment in teaching programs and respect for the profession have declined drastically. Laws against teaching subject areas in the humanities on LGBTQ+ rights, race, and other critical current events have contributed to the movement of teachers in and out of schools. 
While students have experienced an increased need for social and emotional support, that responsibility has fallen on teachers across the country to support their students. At the same time, teachers are stretched beyond their profession to cover other classes with less substitutes without change in pay. 
Before the start of the current school year, ten teachers and administrators relocated from Central, requiring others to step in.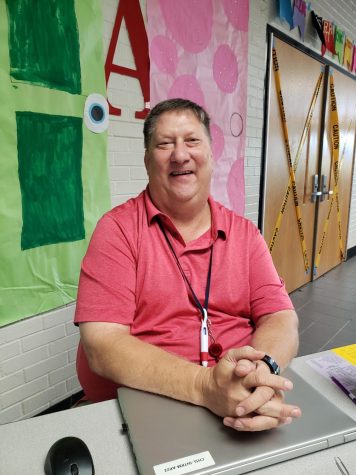 Greg Almus
Retirement was never retirement for Greg Almus. With 33 years in education and only five years in retirement, Almus has been in Hazlewood and Francis Howell to name a few, and was hired in Parkway as an administrator at multiple schools at the elementary, middle, and high school levels. In retirement, Almus takes on substitute positions for administrators, which continued into the pandemic. 
In order to continue to qualify for retirement benefits, Almus has to limit the amount of time he works part time. 
"Even during the pandemic, I was at Parkway North for two weeks in a row," Almus said. "It's been more of a couple of weeks at a time. I've never done a full semester before, so it's been different."
Usually, the hiring process begins the winter before the following school year. With the influx of retirements and career shifts, the timing of hiring had to shift. 
"It's always better to hire new people in January than to hire them late," Almus said. "When you start hiring in January, you're more likely to get a better candidate. Parkway has very high standards."
The interim grade level principals for the Class of 2023 are due to the lack of interest and respect for teaching that has only grown in the past few years as schools have become the battleground for culture wars. 
"As teachers and educators, we're trying to mold students and kids for the future," Almus said. "We are so underpaid for what we do, for the value we have."
But someone as experienced as Almus can still appreciate the small joys of education.
"I'm very pleased that I'm here," Almus said. "Just seeing the kids and how you guys act as a group is pretty awesome."
Dr. Amy Grich
After spending 13 years as a social studies teacher at Parkway North and one year in administration, Dr. Amy Grich came to Central near the end of the previous year. 
"Central has just a great history of academic and athletic excellence," Grich said. "They've got a great strong rapport in the district. So in terms of wanting to stay in Parkway, and having an awesome school to do it, Central was a great location to do that."
Assistant principal to the Class of 2024, Grich was originally expected as the new grade level principal to the Class of 2023. Although Grich was not part of the staffing decisions, she is pleased to be able to continue to work with students. 
"I believe strongly in giving everybody the opportunity to succeed," Grich said. "What it looks like for each student when they succeed may be a little different, but whatever it looks like for them to excel that I've helped provide them with that opportunity to do so is really important for me."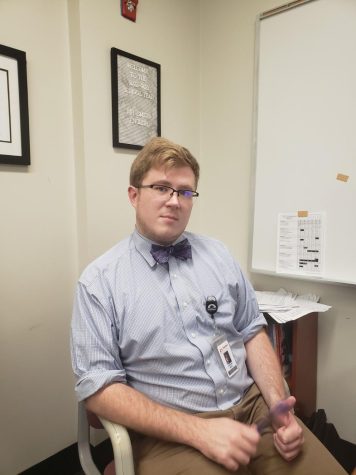 Zachary Smith
Zachary Smith teaches English Two, English Three and Introduction to College Writing. This is Smith's first year teaching in Parkway after teaching at Francis Howell. 
What many students are unaware of is the amount of time it can take to become qualified as a teacher.
"I took six years to graduate college," Smith said. "Part of the reason that it was taking a while was financial. I had to work a full time job through my entire college experience. Full time in college is considered 12 credit hours a semester. The standard for years is 15 credit hours, but it's really, really difficult to hold a job with that extra class. Then, because I was making significantly more money working in restaurants, I decided to take a year between graduating and actually applying for a job."
Working in restaurants, Smith has served, bartended, and eventually managed for the past few years. The buffer has helped pay back considerable amounts of student loans that would not have been possible starting out as a new teacher. 
One of the most prominent critiques on how the U.S. treats teachers is on the subject of pay. Many teachers across the country work two jobs, either a summer job or a part time job throughout the year on top of teaching, whether it be coaching at the school or something along the lines of what many students are doing. 
"I do have the opportunity to pick up shifts when I want, so if I do need extra money, I always have that option to go work like a Saturday morning," Smith said. "I am taking a pretty significant pay cut teaching as opposed to working in restaurants, but at the same time I'm not paying for things like insurance; I have benefits that I don't have to take out of my own pocket."
*Printed copies state that Smith teaches English One, English Two, and Introduction to College Composition, when in fact, Smith teaches English Two, English Three, and Introduction to College Writing. Printed copies also state that Smith is an alum from Parkway North, when in fact, Smith attended North, but is not an alum.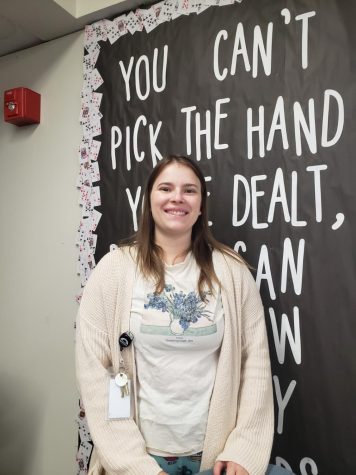 Lauren Rouggly
In year four of teaching, Lauren Rouggly is splitting time between West and Central and teaching an extra section of Human Relations here. A jack of all trades of electives, Rouggly has experience in both engineering and FACS, in addition to being a long term substitute at Parkway North before beginning teaching full time. 
"It honestly is pretty easy," Rouggly said. "Both of the FACS departments at both schools are just incredible, so if you have to split between two schools, being at West and Central is really the way to go."
This is not the first time that the FACS department has had teachers splitting time. Jaclyn Deelo had split time between two buildings for seven years, up until the start of COVID. So, although the practice is not fully new due to COVID, such as Virtual Campus, the frequency has undoubtedly increased, in contrast to general respect for teaching. 
"There are districts that make our job more stressful than it needs to be," Rouggly said. "Luckily, Parkway is not one of them."
Stress can be alleviated anywhere from the administrative level to the students, which tends to be done unconsciously by the latter.
"It's just a job that can't be described or taken any other way," Rouggly said. "It's just waking up every day and seeing so many students and getting to see them learning and actually interacting with your content there. There's just not a better feeling out there."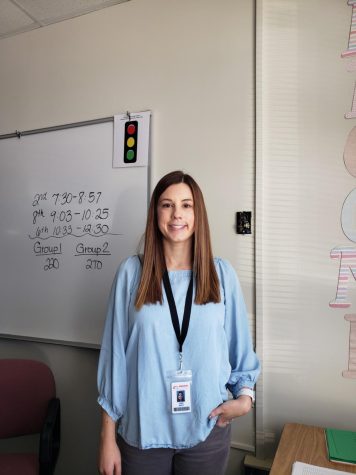 Jamie Smith
Jamie Smith is starting her 11th year in education teaching algebra and geometry, both in person and through Parkway's Virtual Campus. Smith has taught at Bayless High School in South County and Confluence Academy downtown, but lives in the Central area. 
"My oldest daughter goes to Central Middle, and then my middle one goes to River Bend," Smith said. "When I saw this job come up, I had to try to get this job to be closer to my kids, and have the same schedule as them. Previously, when I was in a different district, we would have different days off."
Changing schools has more than just different days off. Much like for new students, there is the element of understanding the community of a different work environment of not just coworkers, but students as well. 
"Really, it's about learning the standards in Parkway and the level of rigor in trying to be part of the Parkway community in the long term," Smith said.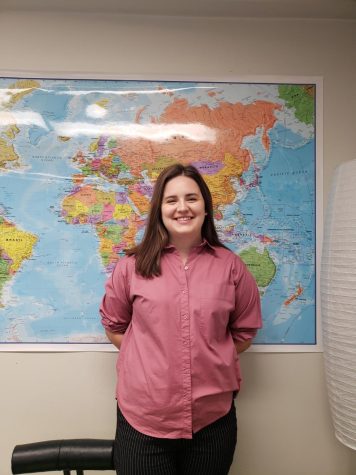 Sophia Brown
Sophia Brown has begun her first year of teaching with US and World History courses. Graduating from Webster University, Brown intended to major in International Studies and work for the United Nations. 
"I realized how important education is through my international studies courses, and I decided that I would go into that instead," Brown said. "I've just always been a big history nerd, so it was an easy jump to that."
In addition to teaching, Brown is sponsoring Model UN, a natural fit for someone with a background in international studies. But like usual, clubs are rarely about the topic at hand. 
"I really just want to grow here," Brown said. "I think it's the perfect first job for me to have, and I could see myself staying here for the rest of my career. I want to further my education, starting probably in a couple years to try to get my masters, and I think just growing my roots and growing community here."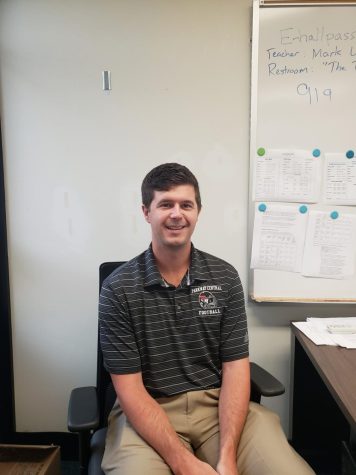 Mark Wright
After ten years teaching social studies at Francis Howell North, Mark Wright begins his 11th year working in education at Central teaching US history. 
"I've really enjoyed getting to know a lot of different people," Wright said. "There's just a lot of energy here to achieve and do well."
The motivation that Wright has observed spills out of the classroom and onto the playing field. Wright is the assistant coach for varsity football, and will be the head coach of JV boys' basketball in the winter after coaching basketball for ten years at Francis Howell. 
"It lines up with why I got into teaching in the first place: to help students learn, be a positive role model for students that I have in class and do really anything I can help," Wright said.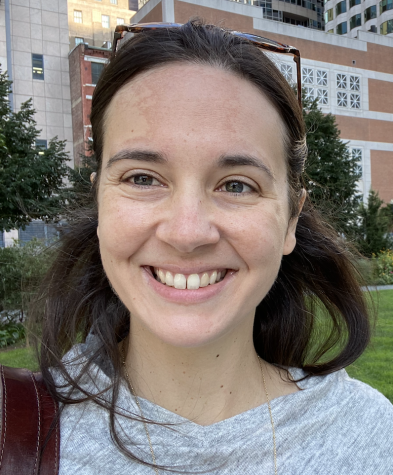 Blair Hopkins
For someone who has taught English, French, Spanish, and social studies in Argentina, France, and the US, going between West and Central every day to teach French is not a big deal for Blair Hopkins. 
"The biggest thing is to make sure that people know where you are," Hopkins said. "To make sure that a student doesn't come looking for me at aclab when I'm not there, everybody who needs to know knows where you are and when, but that was only a challenge at the very beginning."
After graduating from Saint Louis University in 2006 with degrees in French and English, Hopkins decided to move to Argentina to learn Spanish. 
"I absolutely love to travel, and I really prioritized it when I was younger," Hopkins said. "I chose the place to live first, and then I figured out what kind of job I could have." 
As someone who was not a certified teacher at the time, Hopkins worked for Teach for America, a nonprofit program that trains nontraditional teachers and sends them across the country to low income schools that lack resources. Placed in Las Vegas, Hopkins got her master's in teaching before going to France.
"I never considered being a teacher, all through high school or all through college," Hopkins said. "Then, my last year of college, I needed to take a class that would get me a communications credit so that I could graduate. The communications class that I took happened to be about international communication. So I taught a conversation hour every Friday where the students that were spending a year at SLU to improve their English. And then also because I knew I wanted to travel. I knew that teaching English as a Second Language is sort of an easy thing to do when you're when you live abroad. So I was like, 'Well, I know what to do in Argentina.'"