Outdoor Classroom Woes
Space has potential but maintenance of garden takes time, effort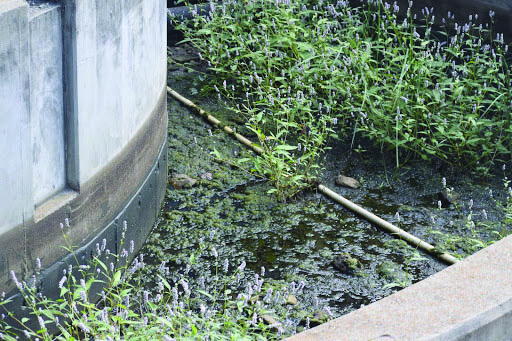 If you have ever had a class in the upstairs science hall do you have probably wondered to yourself what that area is, that now contains reminiscent of moss and algae from a drained pond and home to a plethora of invasive plant species. 
For this overlooked area was once built along with the new science wing years back. Its initial purpose was essentially to be a "outdoor classroom" although they never felt it was entirely applicable for classes for the time being. Ever since then this area has gone entirely overlooked.  This was prior to the introduction of environmental science classes. 
So you might ask yourself why don't we utilize what has the potential to be a great educational environment. In an interview with Shana Kelly, our AP and general environmental science teacher, she stated she "would love to include the outdoor classroom into some of the curriculum, although it might be harder to work in to our AP classes because it has more of a set curriculum it would be a great opportunity to work into the general environmental science classes with the right approval." This would be a great way to not only include more engaging activities into the curriculum but also it is a way to keep the land sustained for no cost. 
Assistant Principal Travis Fast shared hat the pond was initially created as a part of the "new" science wing that was built around 12 years ago now. This outdoor classroom and ecosystem never actually served any purpose to any class or form of curriculum, it does however serve as a part of the roof's drainage, including drainage and permeable surfaces that allow for the drainage of rainwater.