Faith in the Future of Music
Louis Tomlinson Releases His Second Album Called "Faith in the Future"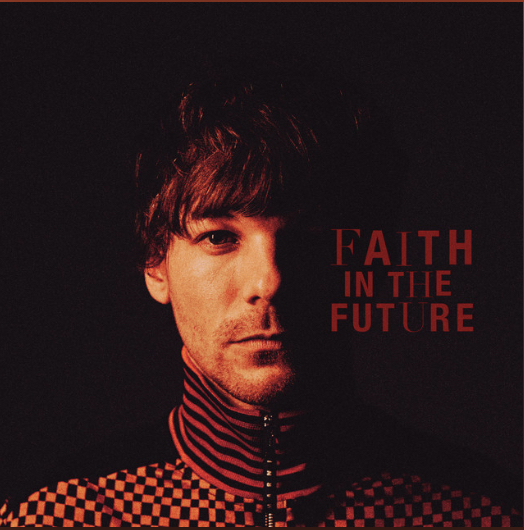 The Greatest 
The album starts off with a fantastic first impression. This is Louis Tomlinson's second solo album and he made quite the genre change this go around. From slower pop songs to a rock and punk influence, the opening of the album sets up the rest of the songs very effectively. The best way to describe this song and the album as a whole is "busy". Instrumentally and lyrically this album is entertaining and extremely hard to get bored listening to. This song evokes an inspired feeling and sets you up for the roller coaster that is, "Faith in the Future". 
Written All Over Your Face
I think this may be one of the best songs on the album. It is very different from Tomlinson's solo work but similar to the work he did in One Direction. It has almost a groovy rock pop influence and leaves you wanting more within the first few lines. Louis Tomlinson is notoriously known for picking the wrong songs for singles. Written All Over Your Face should have been a single and I will die on that hill. If you're going to listen to any song on the album, it should be this one. 
Bigger Than Me
This song was the first single of the album. This song is mellow but still upbeat. The lyrics are tragic, depending on your interpretation, which makes the song a bittersweet experience. It makes you feel sad, but also slightly inspired by the radiant drums and guitar. Everyone listens to songs in a different way. Some people focus more on lyrics, while others focus more on music. If you feel like you fall between the middle of that, this song will hit close to home for you. 
Lucky Again 
This song has a similar vibe to "Bigger Than Me" in the sense of sad lyrics and upbeat music. The song is all about acceptance and wishing the best for yourself. I think this message is very clear across the entire album which is incredibly valuable for anyone to listen to. This song is slower and doesn't follow the punk and rock influence in other songs on the album, but it will still keep you wanting more. 
Face The Music
This song reminds me of the San Diego based band "Saint Luna". There's a soft rock vibe in the vocals which is supported by nearly every instrument in the background. The song is busy and sounds different every time depending on what you are listening for. I think this song is not for everyone, but those of us who like smaller bands with a traditional instrumental idea (bass, guitar, drums, lead singer) the song will be what you're used to. 
Chicago
Heartbreaking. If you have any sort of connection with Chicago and have experienced a loss of any kind of friendship or relationship please be careful while listening to this song because it will seriously twist the knife. The melody is beautiful and the song will leave you with a bittersweet nostalgic feeling. 
All This Time
If you're listening to the album in order you may experience whiplash going from "Chicago" to "All This Time". Tomlinson continues his theme of upbeat music and sad vocals. This song makes you want to get up and dance but leaves you feeling a tad sad because the vocals are full of emotion. 
Out Of My System
This song is an earworm, but not one you'll want to get rid of. This was Tomlinson's second single on the album. The song is a little on the short side, but the rock and punk vibe of it kind of makes up for that. The guitar is extremely satisfying as well as the drums. It's a great song to scream in the car with friends, I would highly recommend taking a night drive with this one on. 
Headline
This song is very mellow. I look at music as high, low, and middle. Songs that you have to be hype to listen to fall into high, songs that you have to be sad for fall into low, and everything else is in between. I think this song is simply a great song and there's not much behind that. 
Saturdays
I think this song will specifically hit hard for our senior and junior classes at Parkway Central. The song is all about change and learning to accept it. The song starts out slow and opens up about three minutes in. I think it is one of the best on the album because it is structured beautifully and evokes a lot of emotion in the listener. 
Silver Tongues
This is the third and final single of the album. I have no idea how to describe the feeling it gives me when listening to it, but it thoroughly makes me smile. I think it's a great anthem for best friends or friend groups. It kind of speaks on the idea of feeling at home with a person and following that feeling through and through. 
She Is Beauty We Are World Class
I firmly believe this song was written for clubbing. This song makes you want to do the frat boy fist bump but also cry a little bit. It's a little reminiscent of pop music on the radio in the early 2010's so if you're looking for some childhood nostalgia give this one a listen. 
Common People
This is one of the slower songs on the album and also one of my favorites. The background vocals are what make it so special in my opinion. It's a soulful song about family roots. The song has a similar vibe to "Night Changes" by One Direction, which is kind of cool because you're able to see Tomlinson's musical roots. The song also does my favorite musical trope of cutting out the music near the end of the song and then coming back in with drums. "Common People" is the masterpiece of the album. 
Angels Fly
I expected this song to be the slowest on the album but it's actually upbeat and I would probably put it in the middle category. He utilizes his ability to sing higher dragged out notes which he similarly displays in his unreleased song, "Changes". 
Holding On To Heartache
This song is extremely emotional and contains some belting that is very satisfying to listen to. The background melody is similar to "forever&more" by ROLE MODEL which makes me feel like this may be a radio song. I think it's not his best on the album but it's certainly still good. 
That's The Way Love Goes 
This is the perfect song to end the album on. It's all about dealing with heartache and it's Tomlinson's way of telling his listeners that everything will be okay. It's similar to "Don't Let It Break Your Heart" on his debut album, "Walls". I think this song is a great closing to an album full of self love and acceptance.