World Cup Winners + Losers
The players, teams, and coaches that were impacted at the competition
Davis Brown, Sports and Multimedia Editor
February 1, 2023
The 2022 World Cup in Qatar was unmatched in its excitement. Plenty of teams faced adversity due to the change in tournament date, or other internal conflict. Thus, smaller teams had the opportunity to prosper and illuminate young talents. Although Argentina took 1st, other players, teams, and clubs saw success in other ways. Here are my World Cup Winners and Losers.
Winner: Morocco
As one of the smaller countries in the competition, one that also lacked a rich soccer history, Morocco played a great tournament. While the obvious is Morocco's 4th place finish, the team illuminated some serious talent in its players. Achraf Hakimi had always been Morocco's main man, but few would've expected him to lead the tournament in tackles with 11. Hakim Ziyech also played a good tournament in his return to the international scene. He moved up to third on the all time scorers for Morocco and it shouldn't go unnoticed that he's donating his World Cup bonuses to the poor back home. All in all, it's hard to not root for an underdog and find pride in Morocco's success.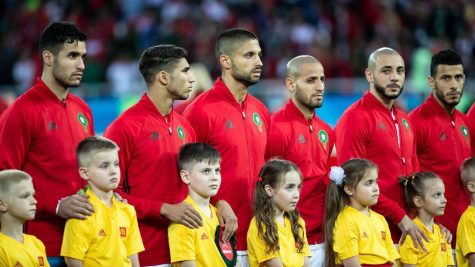 Loser: Belgium
If I'm being honest, Belgium was pathetic and that might be an understatement. While I felt like they were overrated going into the tournament, I expected them to at least make it out of the group stage. The Red Devils scored only 1 goal in their run and played underwhelming soccer. When watching, it was easy to notice that center midfielder Kevin De Bruyne oftentimes moved out wide in efforts to receive the ball more, as Belgium struggled in the central areas of the field. With such unconventional positioning for KDB, you'd expect far more creativity from him. Yet the world's
best passer didn't even scrape up an assist in his three starts. Additionally, De Bruyne brought about internal conflict with some shady quotes to the public.
Winner: Tyler Adams
As a USMNT fan, this list would be really hard to make without the inclusion of Tyler Adams. Fans love to see Christian Pulisic as the USA's most enticing player, and although he played a good tournament, Adams did far better in my opinion. In all 4 of the USA's games, he was a key factor. While Adams didn't score or assist in the tournament, he ran the most distance out of the US team. Adams also completed about 90 percent of his passes and had over 20 combined blocks, tackles, and interceptions. As Yahoo Sports says "He is a protector of the five players behind him and a conductor of the five in front of him."
Loser: Gregg Berhalter
When the US plays well, I really like Gregg Berhalter as a coach. And when they don't play well, I like him
a bit less. Yet the reason Berhalter is on my loser's list is due to locker room complications. Many may be familiar with the Giogate scandal. Berhalter brought conflict with Gio Reyna into public light, didn't play him through much of the tournament, and threatened to call his parents, who are longtime family friends of his. Reyna was a key asset to this US squad and while it's debatable whether he should have played in the starting 11 or not, Berhalter's pettiness brought about dressing room conflict and much needed team morale.
Winner: SL Benfica
First off, SL Benfica, sent 6 players to the World Cup, which is among the most out of Portugal's Liga NOS. These players put
together quality minutes to represent their club well, but
two stood out. Nicolas Otamendi and Enzo Fernandez were not only 'campeones del mundo,' but both players had fantastic tournament form. To start, Otamendi started (and finished) all 7 games at center back for Argentina at the age of 34. The Benefica veteran boasted 19 total tackles + interceptions this tournament. Benefica's Enzo Fernandez developed himself as a huge financial asset for Benefica. According to online news source, football.london, Chelsea are expected to buy Enzo for 106 million euros, almost DOUBLE what Man City paid for Erling Haaland. Whether the transfer goes through or not, Benfica have got themselves a valuable player.