Gee's Bend: Black Resistance
PCH Theatre starts off Black History Month with a inspiring story.
"Let us march on till victory is won." 
These poignant lyrics of the de facto Black National Anthem echo throughout Parkway Central Theatre's production of Gee's Bend. Repeated once more as the final line of the performance, this play does a deep exploration into the theme of Black History Month 2023: Black Resistance.
Director of the play, and Theatre Director of PCH, Nicole Voss explains what Gee's Bend is about. "Gee's Bend spans more than 60 years and three generations of Black women," she said. "While it was a domestic responsibility to quilt, the women of Gee's Bend also turned to quilting as a comfort from the harsh realities of segregation, spousal abuse, isolation, and despair."
Sophomore Reyla Green, who plays the titular character Sadie, expresses admiration for the character's perseverance and determination.
"I like that she's smart . . . She doesn't let other people tell her what to do," she said. "She makes mistakes, but she learns from it."
"She is a strong, determined woman who sees life's challenges as goals to overcome and not barriers to give up," Voss said.
The rest of the small cast consist of Sadie's Husband, Macon, her mother, Alice, her sister, Nella, and her daughter, Asia. Played by Freshman
Sophia Randolph, Asia is a character she really connects to. 
"She's like a little girl that wants the best and wants change and is trying to direct people towards it. I feel like I can be like that sometimes," Randolph said. 
From Sadie's perseverance to join the freedom movement, to Asia's desire for change, to even Macon's struggle of providing for his family, each character has their own version of Black Resistance.
"Each character has their own story to tell… one of joy, heartbreak and sacrifice… each valid and equally important to tell and understand," Voss said.
According to Green, the play was an educational yet inspiring lesson on African American history and culture that is more often than not left unexplored in history textbooks across the nation. She hopes that other students will also learn the same.
"When kids were watching the play, I was hoping that they understood that this is part of our history, even though it is not talked about a lot, this happened," Green said. "This is someone's actual life story, the struggles with both society and their relationships."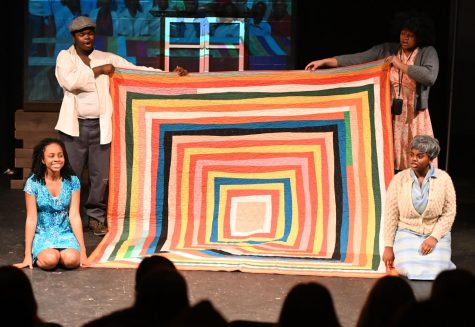 Towards the climax of the play, the cast displayed a beautiful quilt which is a replica of a real-life quilt made by the ladies of Gee's Bend. Voss hopes to frame the quilt in the school.
"That is my hope.  I think it would be a great example of progression and positivity for Black women. Plus, our school could use a bit of beautiful color on display!!" Voss said.
 "It's a good reminder," Green said. "It is a good foundation for Black History Month."