Spring athletes to watch
Eight contributors looking to leave a major impact on their team this season
Spring is here, which means eight sports are kicking off. these are some of the best athletes to watch during the upcoming season.
Sean Kang:
When it comes to the baseball diamond, look out for senior catcher Sean Kang. A recent commit to Southern Illinois University Edwardsville, Kang sported an impressive 0.430 batting average, and a 0.562 on-base percentage to go along with 2 home runs. This year, he is looking to be to complement his hitting. 
After working all offseason, Kang thinks he has it down, "I'll say this sea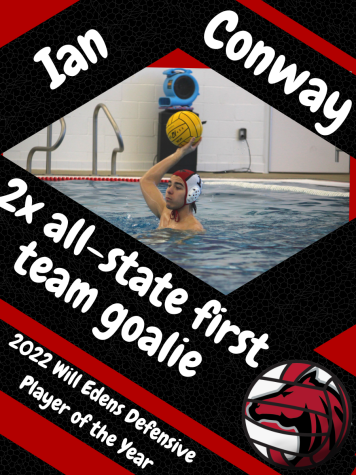 son I improved in the catching area the most, which gives me more confidence leading the pitching staff and just overall just catching," Kang said.
Last year he capped off an incredible comeback in the district championship with a walk-off double to win. This year, he is excited to try to replicate the same success, "I've got a chance to win districts and hang out with the guys and play baseball, so that is what I want," Kang said.
Ian Conway:
Next up is the 2022 Doug Edens Defensive Player of the Year, junior water polo goalie Ian Conway. The  two time all-state goalie is looking for more than individual awards this season. 
Conway is excited to be with the team for this season. "I'm looking most forward to playing with a good team, especially with our speed," Conway said.His primary goal for the season is, "helping our team, hopefully, win state." 
Leading the state last year in saves(289) and being second in save percentage(61%), Conway will look to make a big splash in the pool this year.
Mychael Green:
Senior sprinter Mychael Green is a force to be reckoned with on the track. Green, a recent University of Missouri Kansas-City commit, helped out the state-winning girls' track and field team with personal best times of 26.35 in the 200-meter sprint and a 58.85 in the class 4 state championship. 
Green said that in order to prepare for the upcoming season, she has been going to winter conditioning and running indoor track.
Being prepared, Green said that her confidence helps improve her performance.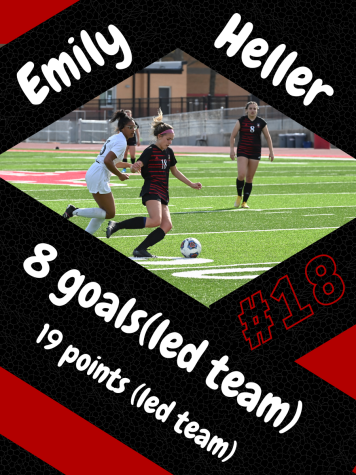 Green is going to be a significant piece to the girls' track team, who will be looking to repeat as state champions.
Emily Heller:
Returning star sophomore soccer forward Emily Heller is ready to go for the upcoming season. As a freshman, Heller led the team in goals, with eight, and points, with 19.
This season Heller wants to improve as a team, "teamwork, just getting super close bonds within the team," in addition, for herself, Heller just wants to "score more goals than I did last year."
In order to accomplish these goals, she has been working hard in the offseason. 
"I play a lot of club soccer and we have preseason trainings for all the new players in the team and just to work together," Heller said.
Along with that, the area Heller has had a major improvement in her, "fitness, I've been going to the gym a lot more and trying to get stronger for this upcoming season," Heller said.
Heller will look to propel the girls' soccer team forward this season with her scoring ability.
Rachel Li:
Midfielder Rachel Li is ready to go for her junior lacrosse team. Last year, Li had 13 goals and 19 total points, putting her third on the team in both categories. 
For this season, Li has been "working most on improving accuracy in more mid to long-range shots," Li said.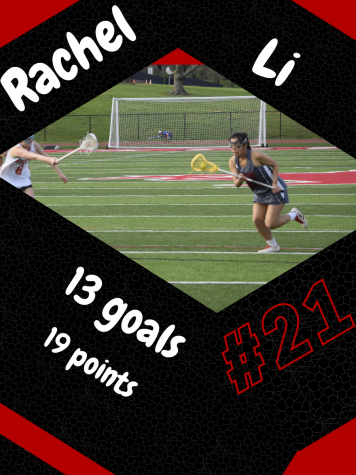 Li also has been "Shooting goals in my backyard and passing with my younger sister, and going to preseason practices," to make sure that she is ready for a big season.
During the season, Li wants to be "personally, working on defense and draw controls. Generally, working on team chemistry. "
The thing Li is most excited about for the upcoming season is "playing at home a lot," so be sure to look out for Li and the rest of the girls' lacrosse team playing on the turf.
Ayush Negi:
Junior tennis player Ayush Negi is looking to improve on an impressive sophomore season.
Returning from a third place state finish and a second place district finish, Negi has his sights set on winning it all. "I want to win state. I also had that goal for the last two years, but those losses motivate me even more," Negi said.
With this determination comes an increased focus on getting better, and he has figured out one area to improve in, "I have figured out what I have to do mentally. I feel like that is even more important. Since now, I have reached the stage where I can start carving my own path, away from guidelines, it is very less restrictive. Freedom on the court and trusting myself is something I really value and I do perform much better playing that way." 
Negi will look to reach his goals and win districts and state through his newfound metal game.
Will Edwards:
Senior golfer Will Edwards has some lofty goals for the season, "a team goal would definitely be to win conference again. And I think with the players we have, and that we have some more experience that we can possibly win districts and I'd be really good because last year, we didn't have anyone to make it through districts to state," Edwards said.
Individually, the reigning suburban conference player of the year has some goals as well, "I just want to make it through the state and hopefully place," Edwards said.
This year, Edwards is looking to bring a new edge onto the golf course with him, " I wasn't very confident in myself. So this year, I kind of have a level of confidence that I didn't have last year so I'm excited to see what that can do for me," Edwards said.
Edwards will reach for his goals as he attempts to win state this season.
Cole Hoehn:
A midseason call-up last year, sophomore volleyball player Cole Hoehn is looking to make a big impact on the floor this year. 
A two sport athlete, Hoehn has to find ways to get better while he is playing another sport, "I already play for a club team called the acronym is MOBA, Missouri volleyball Academy. So that's kind of what I do, mainly because I am still pretty busy with basketball. So that's what I do to prepare and all those practices and it's been helpful," Hoehn said.
Hoehn is excited to be around the team for another year, "I just look forward to the team dinners, getting a chance to know everybody a little bit better, and seeing how the varsity practices really go every day.
Hoehn says he has improved the most in his technique of blocking it down, and he is raring to use it during the volleyball season this year.