Stitching Friendships and Seams
The Embroidery Club aims to bring people closer together
New clubs are popping up all over school. Just this semester the start of The Embroidery Club and the Badminton Club have announced their arrival with posters on the walls and doors of the school. Junior Arshia Sharma, student leader of the Embroidery Club, wanted to create a fun environment to relieve some of the stress from school, especially as the end of the school year approaches. The club meets every other Wednesday in Andrea Williamson's room (room 823).
"Our main purpose is to  gather people so that we could serve the community and we can have a good time together," Sharma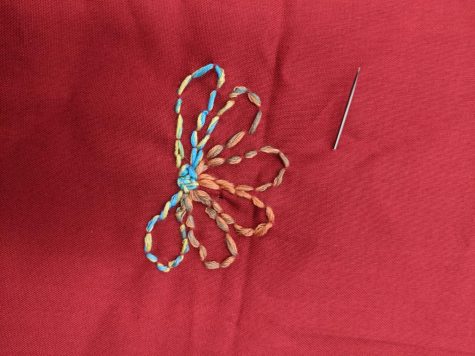 said. "We can build a good community, we can make some new friends and people can just get along. It's just like a pretty chill club. I just feel like nowadays we are so stressed. We're in the middle of the second semester, our AP exams are coming up. So, I was just thinking that at this point in time, we can just have a really good time with our friends." 
Sharma was initially inspired when she saw a friend embroidering, and even though she didn't know how to embroider, she wanted to learn how. Embroidering by definition is artistic stitching. It typically only involves some colorful string and fabric. Cross stitch and needlepoint are a specific type of embroidery. Often when doing these crafts an embroidery hoop is involved to keep the fabric from deforming or moving. This broad definition of embroidery allows for a wide range of creativity and freedom.
"I was just thinking that it's a really good form of art which we should teach people," Sharma said. "I just feel like through starting this club, we can show people what type of art this is. Not everyone knows what embroidery is, or maybe they know what it is but they haven't really done it before. So, I just feel like this can be a good hands- on experience."
Junior Hiya Bist is another member of the embroidery club. She puts out most of the advertisements for the club and helps get people to join the club. 
"I'm looking forward to just seeing how the club does and just working on the club and starting to build it up," Bist said.
     Starting up these clubs can be challenging. 
"I feel like the biggest struggle was gathering people," Sharma said. "When you're starting up a club, you first expect people to show up, but then, when they don't show up, you feel kind of sad. Sometimes there was bad weather, sometimes people could not be there, the activity bus couldn't take people home." 
These struggles haven't prevented this club from creating their fun environment that they wanted. However, in the original blueprint for the club, Sharma wanted to be able to donate some of the club's completed projects as a way of giving back to the community.
"We meet every alternate week, and we're still starting everything," Sharma said. "We had spring break in between… So, once everything is going smoothly we will work towards that."