Journey to Carnegie (Part II)
Orchestra hanging out and playing at Carnegie Hall this April
Traveling and playing instruments are listed among the most pleasurable things, according to orchestra director Alicia Bont, and combining them together was even better. The Central orchestra took a trip to New York from April 6-9, and they earned themselves the chance to play at Carnegie Hall. According to their official website, Carnegie Hall "set the international standard for musical excellence." Many famous musicians have played there since 1891, such as Tchaikovsky, George Gershwin, Billie Holiday, and The Beatles.
"The way the room sounds really throws people off because Carnegie sounds so much better than our orchestra room," Freshman Macey Heimburger, one of the violists from the symphonic orchestra, said. "The hall itself sounded nice, [and] the chords ring out very well."
It's not easy to play at Carnegie Hall. Last year the Orchestra traveled to New Orleans to compete in the National Band and Orchestra Festival and received the invitation to play at Carnegie this year.
"We got the top gold rating [for our performance at New Orleans]. So if you get the top gold rating, then you can submit a recording to go to Carnegie," Bont said. "That's basically the first level and then they choose who's going to play [at Carnegie] by their recording. So they have a set of judges listen to the recordings that were submitted, and decide if they're good enough."
Playing at Carnegie Hall was no small matter, and since it has a long history, it's important to pick an appropriate piece of music. Bont spent much time deciding which piece to use that would fit both Central's orchestra and the atmosphere of Carnegie Hall.
"That was probably the hardest thing to pick. Because I wanted to make sure that we picked something that was from the classical music tradition, since Carnegie Hall has been around for a really long time and has hosted performers from all different genres of music," Bont said. "So I wanted to make sure we had something that was truly a string piece."
Bont picked several pieces for roughly 30 minutes of performance, and they reflect a diverse set of music.
"I chose "St. Paul's Suite," which is a piece that was originally written for string orchestra by Gustaf Holst. We played almost three out of the four movements of that piece," Bont said. "And then we did have the Vivaldi "Double Violin Concerto." We did a tango, by Astra Piazzolla from Argentina. The last piece we did was a piece written by a local composer."
There are also two solos assigned to the two students in the symphonic orchestra, the highest level of Central's orchestra. Sophomore Asher Koh and freshman Aiden Moon both played a section of the solo.
"The two soloists are first Stan concertmaster and assistant concertmaster. They had already said they were gonna go," Bont said. "And so I just asked them to play the double violin."
The orchestra got their piece last December and has been practicing for at least three months. The orchestra members have also been practicing on their own.
"We've practiced at least a good two or three months before the trip," Koh, concertmaster of the symphonic orchestra, said, "I've been practicing two weeks before [the trip]. I have a few solos to do."
Everyone's own practice schedule doesn't exactly match the overall practice schedule, since there are three different levels of orchestra.
"I put in a lot of time towards the beginning," senior Simon Warner, the bass section leader of the symphonic orchestra, said. "I take a lot of my athletic time and a lot of my study time and after school time just working on it. It really differs for each person, because each person has a certain amount that they have to practice, and you do have to find that perfect medium, because if you practice too much, then it's bad, and too little, [it's also bad]."
The price of the trip was approximately $2000 dollars. To help as many people as possible, the orchestra did several fundraisers since they got the invitation to Carnegie Hall.
"I helped in some of the fundraisers to raise money to go to New York. I helped by playing at the mattress sale back at the beginning of the year," Freshman Emily Wong said. "I also helped to volunteer to play at the transportation museum, which was fun. We had a couple of benefit concerts."
One of the largest fundraisers they did was a concert at Sheldon Hall, which helped lower the price of tickets for everyone.
"[Our] biggest fundraiser was a concert at the Sheldon concert hall here in St. Louis," Bont said, "We hosted the concert there, and we sold tickets, which was our main source of revenue from that. And then we took donations at the concert. So we raised $10,000 from that, which was wonderful."
Many parents were also excited about the students' effort to perform at the most prestigious hall in the country. Some of the parents signed up along with the school trip, while others had their own schedule.
"My parents went separately because we have family [in New York]," Heimburger said. "My mom's brother is a doctor in New York. And so they went to see my mom's family, but they just came to see me at Carnegie."
With a group of 65 students and around 50 parents on the trip, it took Bont some time to plan the trip and coordinate everyone.
"I did some of the planning by myself. And then some of the planning with the tour company," Bont said. "The hardest part was coordinating everything with such a big group. We had lots of family members that came to enjoy the concert. There was a lot of behind-the-scenes planning that went with those families and all the students that were going."
Leaving after first block on Thursday, April 9, the orchestra group went to the airport and boarded the plane to New York. The musicians with smaller instruments, such as violas and violins, were supposed to bring the instrument with them.
"We had a whole bunch of violinists and violists carrying their instruments around the airport, which was pretty cool. I've never seen anything like that before," Warner said. "And we took up about a third of the plane. It was a super, super cool experience."
For the larger instruments, the orchestra couldn't carry it with them. They landed in New York and rented them from Carnegie Hall at the time of the performance.
"We walked into the hall and picked up a brand new cello or bass and walked onto the stage and played," Bont said. "It was a little bit scary. Pianists do that all the time. But string players are not very used to that."
It's impossible for Bont to manage a group consisting of more than 100 people alone, so the group has a method to manage the teenagers with parent volunteers.
"Since New York's a big city with a lot of people in it, handling a group of 65 people in the big city is not really doable. And so what we did was we split everybody up into groups with a chaperone," Warner said. "So each group was of five to 10 people with the chaperone. It was great to be able to split off. And then during the free time opportunities that we had, each group was able to really do what they wanted to do during that time, and then meet up at the meeting place."
The orchestra and the parents were able to book a luxury hotel. Each member stayed with a couple of roommates.
"We picked one called the Marriott Marquis," Koh said. "It's on, I think, Fifth Avenue and 42nd Street. So it's really close to Times Square. And it was like an 11-minute drive to Carnegie Hall because there's so much traffic."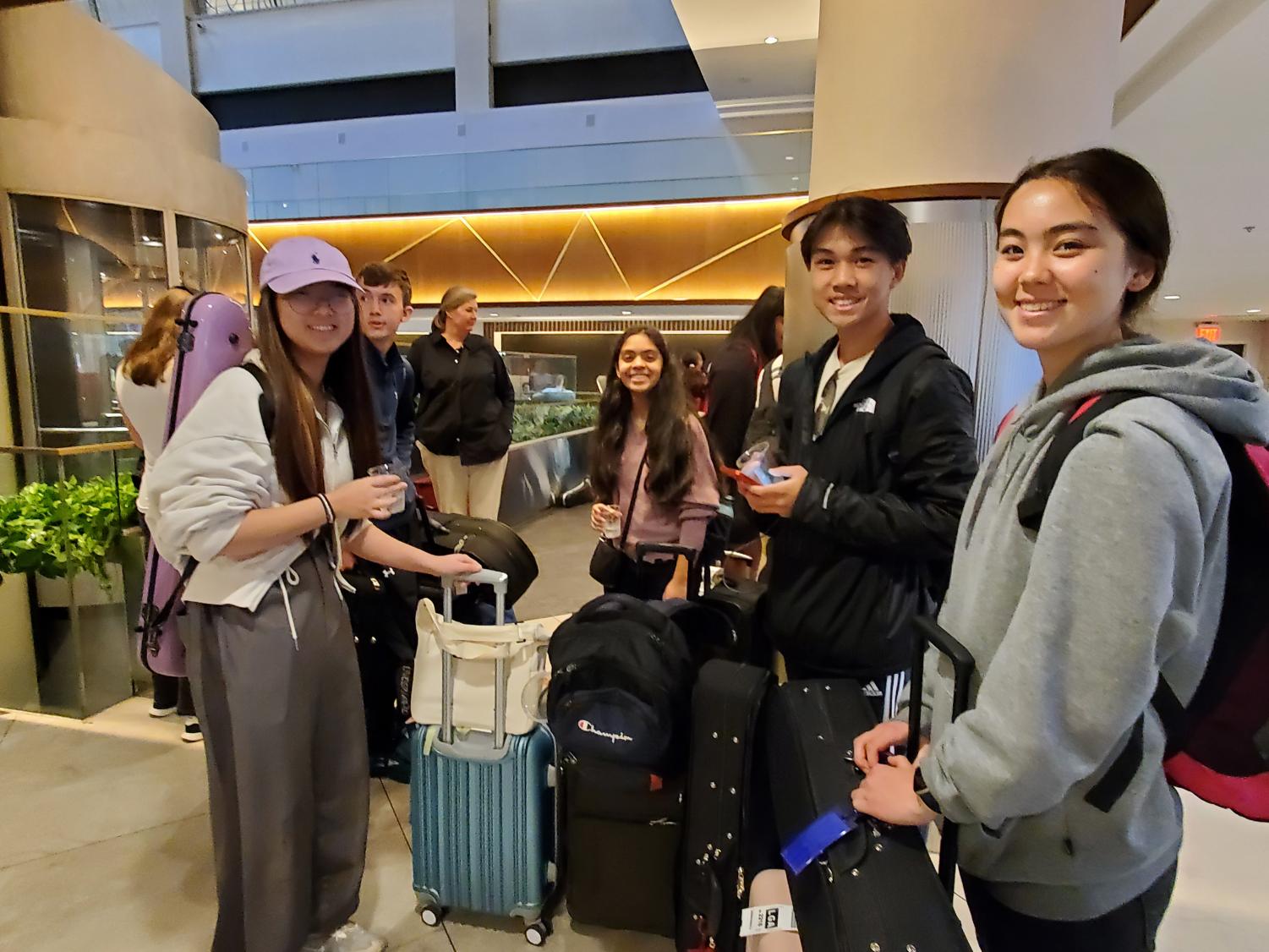 The orchestra went to dine and enjoyed spending time together outside of the classroom in New York.
"We went to see "Lion King" on Broadway, and it was right across the street from our hotel," Bont said. "We spent a lot of time exploring Times Square. We went to the One World Observatory, which is a really tall building close to the 9/11 Memorial, and we went up that tall building and saw the whole skyline and the Statue of Liberty. So One World Observatory was built after 9/11, and this other building called Top of the Rock was built in the 1920s. So it was a completely different type of feeling."
One thing the orchestra didn't end up doing was practicing their pieces. They had practiced a lot beforehand and didn't plan to do any real practice after landing in New York. They had a 30-minute period to prepare themselves at Carnegie before the performance.
"We had the practice room before we went to be judged," Heimburger said. "But that's about it. Which is kind of why it didn't feel like a music trip at all."
Besides not practicing, the orchestra also didn't remember to bring the suitcase that contained their sheet music when they arrived at Carnegie, which was nerve-wracking for the orchestra director.
"We had forgotten the music at the hotel by accident," Bont said. "So we were a little bit stressed out at first, but we got the music. One of the chaperones had to go back to the hotel to get the suitcase and bring it in."
The performance itself was great, but it was below the expectation of Bont. It could be credited to the different settings of Carnegie Hall.
"I know a lot of people played their best, but playing in a different place, especially like Carnegie [sounds different]," Heimburger said. "Especially when they're not used to quick adjustments to different halls. Which is what people in symphonic are used to because they have been playing for so long."
Another problem was assembling different levels of orchestra. Concert one and concert two are the more basic orchestras, and it can be hard for them to match the skill and pace of symphonic orchestra.
"We rehearsed in class with only one, and we all combined," Bont said. "We had four rehearsals that I scheduled, but there was only one rehearsal where everybody was there. And it was a run through. So it was hard to get an idea of what the real group was going to sound like before we went."
Overall, the orchestra members think this trip was totally worth it. Playing at Carnegie Hall was the main focus before they went, but after they landed, it was more about connecting and spending time with friends.
"Unless any of us become a big deal musician in our life, there's no other opportunity that we're ever going to have to play at Carnegie Hall, ever," Warner said. "No other opportunity we're going to have to be able to explore New York with this group of people. And so I think that is really the uniqueness of the opportunity."