A Deep Dive Into Water Polo
The coaching, players, and tactics helping Central towards a state title.
If I had to guess, many of my readers, much like myself, didn't grow up on water polo. I'd always heard about the sport, but had never gone to a game or immersed myself in it. Upon Parkway Central's unprecedented water polo success this season, I found myself looking to better understand the sport. 
Among my pre-interview research, the phase in which I was deciding what to write about for the last 2022-23 issue of the Corral, it came to my attention that this team was putting up scores that looked like mistakes. I found out that Parkway Central water polo had been ranked number one in the state by Missouri Water Polo for most of the season. I knew we were good, but not this good. Why us? How? We're not supposed to be the top competitor for such a niche sport, especially one that has been so exclusive to well-funded private schools in the past. How in the world did a mid-size public school in Chesterfield become the number one water polo team in the state?
About a week ago I sat in on my first practice following an interview with Coach Andrew Schonoff. I quickly became fond of Schonoff, much like his players. For starters, he really cares about his team. Coach Schonoff has instilled excellent standards in his program and continually seeks greatness from all of his players, not just the starters but the first-time polo players as well.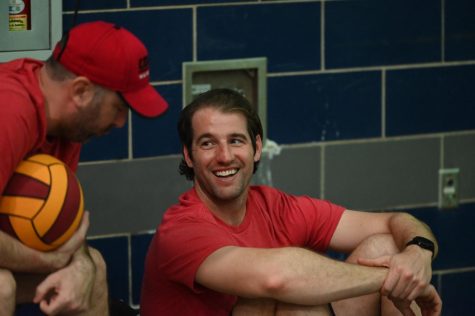 Schonoff's goalie, a Missouri Water Polo All-State Member, and Defensive Player of the Year, is junior Ian Conway. During practice, Conway seemed to be the poster child of Schonoff's expectations: a hard working athlete who doesn't need to be reminded what he's there to do. It's no surprise he's saved about 70% of shots faced, that's 258 in total. Mentorship from Schonoff has played a big role in that success.
"I believe we have the best coaching in the state. Our coach played professionally for four years and in college," Conway said. "He just knows the game, inside and out. [Schonoff] made a team of random swimmers into a state caliber team, which is really impressive," Conway said.
Especially when considering other competition, Schonoff's coaching shouldn't go unnoticed. Private schools have the ability to draw in high level athletes, not to mention they may have better access to funding. Thus, their programs have the upper hand on public schools. 
"It's hard because really good players have the option to go to private schools where they know they're gonna be in good hands. Public schools can be a toss up and they don't always know what they're in for," Conway said. 
The tactics that Schonoff has implemented can't be undermined. With a team full of swimmers, playing to those strengths is important. The Colts use a very dynamic style of offense in which they punish opponent's mistakes with lethal counterattacks. 
"On paper we're the fastest team in Missouri. All of our starters except me and my brother go under 50 seconds in our 100 free. I feel like we really do use that to our advantage" Conway said.
His teammate, Daniel Richmann, is the center defender for the squad. Richmann is also a firm believer in the team's unique offense.
"We run a fast, physical game," Richmann said. "We have a lot of counter attacks and a lot of driving, getting one on one with the goalie."
As a defender, Richmann also has an instinctual understanding of the tactics behind the ball. 
"We play a defensive drop, which is a very team-based defense that requires a lot of communication. [Schonoff] has helped us a lot with the team-based part of it… and I think the other part is that we get along super well. If we give criticism, it's not gonna be harsh at all," Richmann said.
Yet the largest contributor to the success of PCH water polo has been their grit.
"The success we're having this year isn't just about the kids on the team this year, but it's about the kids that were on the team two, four, six, [or] eight years ago that have continued to build this culture of hard work and team atmosphere," Schonoff said.
He noticed the grit immediately after a close loss in Chicago early on in the season. The loss brought the team's perfect record to an end. Yet Schonoff says it "helped continue to fuel the fire and push them forward."
"What makes this team different from other teams I've coached is that this is a team that is very self motivated," Schonoff said. "It's that relentless work ethic. We've got a really fiery group that just loves to compete and improve."
Conway says it well, even in the face of elite programs in the area "obsession beats talent." This mindset looks to propel the Colts to a successful state run this year. 
Although they'll likely see a tough SLUH team, the squad is truly looking towards winning the title. Schonoff has already seen success at the state level this year as the head coach of PCH boys swim and dive as well as Westminster girls swim and dive. A state championship in water polo would not only establish Central as a legit water polo force, but would add a third 2022-23 championship to Schonoff's resume. 
Look for PCH water polo to get the job done Saturday, May 13 at 2:30 (third place game at 12:30).