A Night For The Books
April production marks decade since the first Cabaret Night
Hosted by the theater department, A Cabaret Night has been a classic Central get-together intended to celebrate and showcase the talents and creativity of the students expressed through the various fine arts. This year was no exception; the performances varied from classical ensembles, to solo singing, and even juggling.
The night opened with a stellar cover of Ed Sheeran's song 'Photograph' by junior Zoe Wang. As she had been singing since her time in elementary school, Wang was eager to perform at the Cabaret Night.
"One day, I just want to have a small concert . . . That's what I'm always dreaming of," Wang said. "So, being able to have this opportunity really makes me excited."
Wang performed in the 2022 Cabaret Night but, this time around, she was accompanied by a pianist for her second performance: a rendition of the popular song 'Someone Like You' by Adele.
"It's always good to collaborate with people and share the joy," she said.
Wang intentionally chose to perform two well-known songs from different album eras to appeal to the varied audience of parents and teenagers present at the Cabaret Night.
"I just want people to enjoy," she said. "Because, we all want to hear something that we like and that's more popular."
While 'Someone Like You' can be defined as a sad romantic ballad, 'Photograph' is notably a more sentimental and happy song. Wang feels that she resonated with the latter.
"I'm a person who loves taking pictures," Wang said. ". . . So, when I'm scrolling my camera roll, I'm remembering all the little moments and good times I had."
Later in the night, in a refreshing combination of music and acting, junior Rachel Li, and sophomores Asher Koh, and Samantha Taylor, performed 'Strawberry Shortcake,' a unique multimedia piece written by sophomore Hannah Wolkowitz.
The experience of making a strawberry shortcake with her best friend on the last day of school inspired Wolkowitz to put pen to paper.
"School is not fun," Wolkowitz said. "It's very stressful . . . so, when it was over, that was the best feeling . . . that was just a happy, happy experience that I thought would be super cool to make into a piece."
Prior to Cabaret Night, Wolkowitz's piece had won first place in the Mizzou's Creating Original Music Project (COMP) in the Notated Music Category of the high school division. She was awarded a large sum of money for her and for the music department.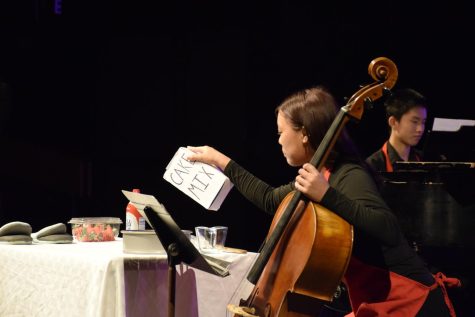 "I think it's cool because I just get to write music and it benefits people," she said.
Wolkowitz acknowledges that her piece is a little unconventional.
"'Strawberry Shortcake' was not in the rulebook," she said. "Usually, I would say, a typical piece of music doesn't incorporate acting."
The trio performing 'Strawberry Shortcake' were not merely musicians; they were also actors, simultaneously switching between playing the music and acting out the scenes. Li, who played the cello, appreciates the ingenuity of the piece.
"I'd say it's really innovative and refreshing," she said. "It's almost like a theater script and a music score in one."
As 'Strawberry Shortcake' involved careful synchronization between the acting and music parts of the piece, Wolkowitz coached Li and the other two musicians through learning and perfecting the piece.
"When it's just the musicians playing it, they can sometimes be derailed by their own experiences," Li said. "So, I think it was really helpful to have Hannah like our coach to point us in the right direction."
Li hoped that the audience enjoyed the humor of the piece as well as the creativity of it.