Poet, travel enthusiast and plant mom, Heidi Speth is a new English teacher at PCH. Last year, Speth interned as a student teacher here, and now she is a full-time educator, teaching English 2 and English 3.  
A notable aspect of Speth's teaching is her well-decorated classroom. From houseplants, to fairy lights, each decoration has a specific purpose of creating a safe and positive environment for her students and herself. 
"I wanted to kind of create a sanctuary for, not only myself as a teacher — where I could come in and take a deep breath and know that I'm in a safe space — but also for my students, as they're coming in here in this turmoil of the school year, extracurriculars and all that," Speth said.
Speth's efforts are not in vain, as her students do indeed feel the comfort and warmth of her classroom. 
Story continues below advertisement
"I just like how it's a very chill environment," junior Samantha Taylor said. "It just makes it a lot more comfortable and feels like a safe place."
One of Speth's favorite things to teach her students is poetry. As a published poet herself, Speth wants to incorporate teaching poetry in all her classes. 
"I have a soft spot for poems and really just having the opportunity to get students excited about reading poetry and putting it in terms where it's accessible and where it's not this huge, intimidating thing," she said.
Aside from being a poet, Speth is also a keen travel enthusiast. So far, she's been to 23 of the national parks in the United States.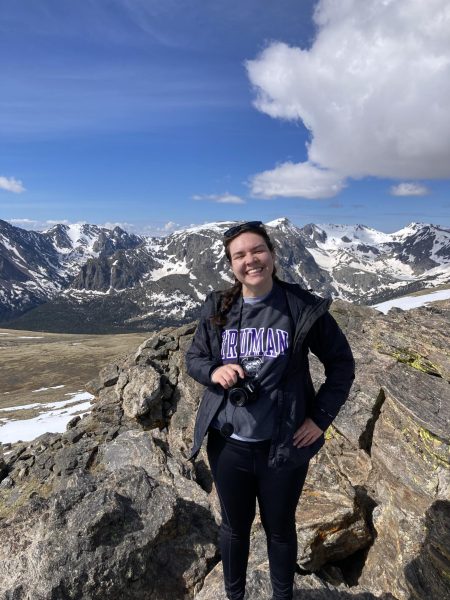 "My goal is to go to all 63 national parks by the time I pass away, many, many years from now," Speth said.
In addition to traveling in the United States, Speth has also been to Japan for a study abroad program when she was in high school.
"I was in their high school and immersing myself in their culture, which was a really wonderful experience," Speth said.
Due to her great experience in Japan, Speth loves Japanese food. However, her all-time favorite type of food is breakfast food. 
"I don't even eat breakfast every day, but I think breakfast is just a superior genre of food," she said.
Another one of Speth's favorites is music. As of late, Speth's favorite genre has been folk pop music.
"My absolute favorite band right now is Happy Land," she said. "They're a very, very small town band, and they consider themselves a genre of Canyon Rock."
Additionally, Speth has a soft spot for country music. 
"I love the classic country music: Alan Jackson, Kenny Chesney, things like that," she said.
Although not surprising for an English teacher, Speth loves to read. She reads books across a variety of genres. However, lately, she has been reading young adult fiction books. 
"I love to read what students are reading and get to have those conversations with them about the books," Speth said.
Speth's dedication towards understanding her students goes beyond the school hours as well. 
"One thing I really like is that she can relate to her students really well,"  Taylor said. "She knows how much work a class can be  . . . and will stay after school or come before school to help you, which is really nice."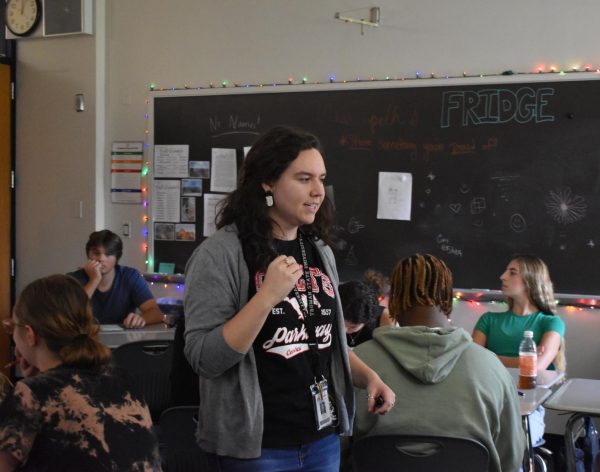 Beyond that, Taylor also feels that Speth is very respectful and caring to her students. 
"She'll ask you how your day is and she'll give you a fist bump on Fridays," Taylor said.
Speth's upbeat attitude is not only admired by her students, but her colleagues as well. English teacher Mattie Rudolph admires Speth's positivity and appreciates how it's impacted her. 
"As a friend, she is always wanting to look at things in a positive light," Rudolph said. "I have even gone to her before, to help remind myself of the positive things of this job, because she is such a positive person."
During her time as a student teacher, Speth was aided and mentored by Rudolph.
"I loved working with Mrs. Rudolph," Speth said. "She is a wonderful teacher. One day, if I could be half the teacher that she is, I know I would be doing good things." 
Upon meeting Speth, Rudolph immediately felt that she was a perfect fit for the PCH community.
"She immediately displayed fantastic instincts as a teacher and skills as an educator that I knew would be wonderful for Parkway students," Rudolph said.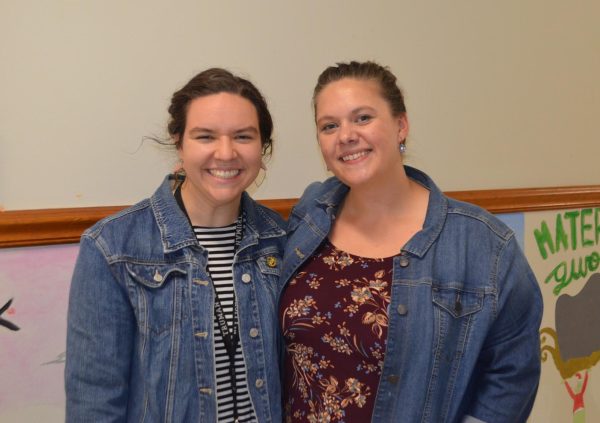 Rudolph is happy to have a like-minded educator as her colleague.
"Her understanding of the curriculum, her understanding of educational pedagogy, her willingness to learn and improve and her compassion for students was very much like mine," Rudolph said. "I am thrilled that she is part of our team officially."
Likewise, Speth is very grateful to have gotten, as she calls it, "the dream job".
"If I had any pick of any school, I would want to be with these kids, in this department, because I just adored my student teaching experience," she said. "I'm really glad to be here and be able to continue to be a part of this community."