Recipe For Safety
Due to some nasty weather this season, here are some car care tips for the winter season and beyond.
Hang on for a minute...we're trying to find some more stories you might like.
It's St. Louis. On Monday we have 50 degree weather, on Tuesday we're in the negatives. To keep you prepared, here are some tips to stay safe and be ready for the worst.
Keep Ahold of Your Ingredients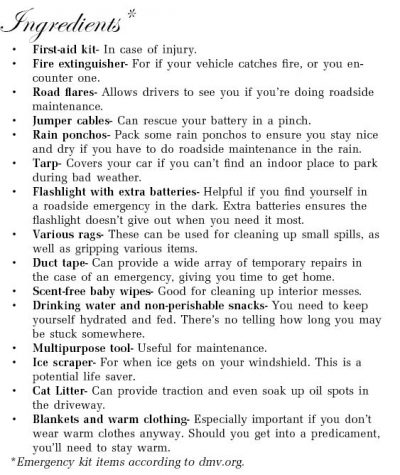 You never know what will happen in bad weather while you're driving. You should always prepare for the worst. The best way to do this is by keeping an emergency kit. This should be kept in your back seat or your trunk, where you can get to it in an emergency.
You should keep a variety of items in this kit. While you might be satisfied with a kit full of car maintenance items, i.e. jumper cables and a car jack, you should also keep in mind various non-car related items. For example, if you don't plan on wearing warm clothing in the winter, it would be beneficial to keep a change of warm clothes and even a blanket in your backseat.
It would also be a good idea to keep a bag of a kitty litter in your car at all times. While unconventional, kitty litter can get you out of a slippery situation.
"You can use it if your car were to slip off the road or get into a really bad ice patch," Senior Jack Allen, a car enthusiast, said. "You can actually use the kitty litter to get traction to get out of the problem."
Take Care of Your Utensils
Your car will give out on you if you let it. It's necessary to get all the changes and checkups that your car needs. Some important things you want to pay attention to are tire pressure, making sure to keep it at whatever your factory says it should be, and your fluid levels, whether it is oil, antifreeze, brake fluid, or windshield wiper fluid.
Windshield wiper fluid in particular is very important in winter conditions. If you don't have enough windshield wiper fluid, during snowy or icy weather you can find their windshield obscured and even frozen over.
"If you run out of windshield wiper fluid and you get a bunch ice or sleet or something on your windshield, you can't get it off." Allen said. "So having full fluid is going to help you with visibility and different driving conditions."
Plan Out Your Meal
It's always important to know where you're going, especially when the roads get bad. As driving conditions worsen, it's inevitable that you're going to encounter a wreck that backs up traffic. Make sure you keep tabs on the road conditions of your route. Naturally, you'll want to avoid icy roads so that you can avoid the ensuing traffic and dangers.
On top of maintaining general knowledge of your route, you want to afford yourself more than enough time to get from point A to B. If you think it will take you ten minutes to get somewhere, you might want to leave anywhere from five to ten minutes earlier, just to be safe. If you get stuck in traffic, there's nothing you can do but wait.
Don't Miss the Icing
Black ice is a thin layer of ice that could easily be mistaken as just the pavement. It forms quickest on overpasses and bridges, and in places with lots of shade. If you catch yourself on black ice, a good way to ensure you don't start slipping around is to keep your steering wheel straight, your foot off the accelerator, and your foot off the brake. If you start steering wildly, it becomes a lot easier to lose control. Keeping your feet off the accelerator and brakes ensures that your car slows down naturally, decreasing the likelihood you'll lose control.
Don't Overestimate
Not overestimating is perhaps one of the most important tips so far. Not overestimating is a key part of preparation, maintenance, and route preparation.
When driving in cold weather, and you see you're low on gas, don't pass that gas station thinking you'll make it. At any given time you should have at least half a tank of gas. When you see that your car needed their routine checkups weeks ago, don't think it'll make it a few more. You should keep up to date on all checkups. When you know there's bad traffic along the route, don't overestimate yourself. You should grant yourself plenty of time and even look for another route just in case