Secret Song from Dodie's New Album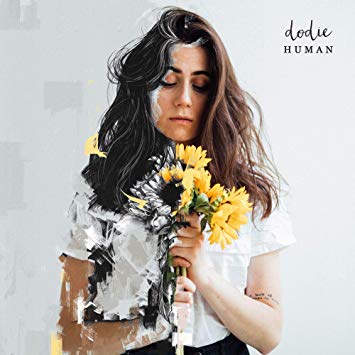 Hang on for a minute...we're trying to find some more stories you might like.
With a YouTube channel following of 1.7 million, English singer, song-writer, and author, Dodie Clark, still utilizes her channel in a vital way despite her growth among the indie pop genre of the music industry. Formally known as Dorothy Miranda Clark, Dodie started her channel called "doddleoddle" on YouTube in 2011 posting piano and ukulele covers as well as her own original music. On Jan 18 of this year, Dodie released her third EP consisting of seven songs called Human. But the album alone was not what was so shocking to her listeners. A certain aspect of the release was unveiled in the most creative way imaginable.
Two of the songs, "Human" and "If I'm Being Honest," were released as singles prior to Human's debut, but those were seemingly not the songs with the most detail poured into them. The first song listed on the EP, "Arms Unfolding," appeared to be the most meticulously worked piece of all. Four days after the album drop, Dodie announced via Instagram a long hidden secret disguised amidst her 20 most recent YouTube videos. She made the announcement exposing her plan to hide each word/phrase in all of the videos she made with an Instagram post capturing all the cropped moments on her channel into one video. She said all she needed to make this happen was "my phone tuner, my lyrics ticked off once they were done, and a LOT of patience."
In the video posted to Instagram,  Dodie invites all her followers to explore the behind the scenes of how this project was done and a full explanation on how she managed to pull it off in a YouTube video titled "I hid a secret song in my videos." The video began with a clip from May of 2018 explaining her idea "to make and build a song scrapbook style from the clips of each video to be the first song of the EP." This preface was followed by the individual clips compiled together so that the song was audibly apparent to the listeners. In the end, she showcased multiple shots of her practicing saying the hidden words in the right key of the song but in a subtle enough way so that it wouldn't be noticeable that she was singing them.
Her fan base erupted at the exposure of this project claiming they had noticed her sing-songy voice she had been using while talking lately, but they assumed this was just part of her brand and style. In my opinion, this reveal was so exciting as an audience member because it truly made me feel as if I experienced the whole song writing process with her. It then made going back to watch all of old her videos so much fun because you could search for the treasure map moments where she managed to hide the lyrics without anyone noticing.