Spring Sports Athletes To Watch
The oldest players on his team, and being a third year varsity player, junior golfer Deuce Harris will naturally be looked upon as one of the team's leaders.
"I don't feel any pressure to be a leader because I will lead by example and make sure as a team we are creating a team first environment," Harris said. "I am committed to helping this team take the next step and will lead by example through working hard to improve my game."
Harris missed out on going to the state tournament the last two years and doesn't want to miss it again.
"I have really high expectations of going to state this year because I missed going to state 2 years in a row just because of a couple bad shots," Harris said.
Harris has been taking steps and been working on his game over the off season trying to make sure he can reach his goals and his full potential.
"I have been working with my golf coach year round for the first time since moving to Chesterfield," Harris said. "We have been focused on preventing the big miss to the left and now are focus on creating lag in my downswing to take my hands out of the swing."
Look for Harris to make big strides in his junior season and hopefully qualify for state for the first time in high school career.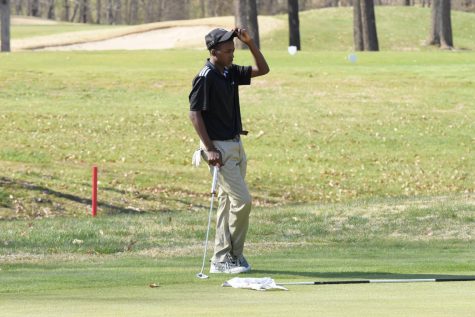 Being another junior with two years of varsity experience before this season, Brooke Lierman knows that she still has work to do to improve and take the next step.
"The goals that I have more myself for this season is to beat my stats from last year and move up in rankings," Lierman said.
Lierman was second on the team with 42 total points and first on the team with 39 goals. There were 7 seniors on the team last year and because of that loss, Lierman knows that she will have to step up and become a leader.
"Last year we had a lot of seniors leave so a lot underclassman are on varsity this year so being a returning player and being one of the oldest I feel like I have a leadership role," Lierman said.
Lierman also feels like she needs to work on something that doesn't have to do with her performance.
"In the past I have had a really bad temper so this year I'm trying to take a deep breath and have my patience with my teammates," Lierman said.
Look for Lierman to step up and be a key player and leader for the lacrosse team.
Baseball player Eric White looks forward to his senior season. It will be his last year playing for a program he has spent the last four years playing in, but it won't be his last time playing baseball.
"I plan on playing at Drury University because I love the game so much," White said.
White, a left-handed pitcher and outfielder, doesn't want to or need to change anything about his game, he just wants to keep improving. As a junior, White had a batting average of .250, and on base percentage of .391 and 11 runs batted in. He also had a 2-2 win-loss record on the mound over 6 starts, an earned run average of 3.28, and he struck out 22 batters. White also pitched at the annual Busch Stadium game against rival Parkway North, only giving up one earned run across seven innings. The team lost a few potential seniors for this year that were on the team last year.
"Seniors leaving won't really have a huge impact on the team because we have people filling their spots that have a lot of talent, it's just going to take some time to get use to that they won't be there," White said.
Look for White to have a good final season in the baseball program.
Like White, Lanese Farr is heading into her final season as senior on the girls track and field team. Farr is a thrower who will compete in javelin, discus and shotput.
"My goals this track season are to improve my personal record and maybe get the school record for javelin," Farr said.
Seniors are usually looked up to as leaders by younger and less experienced teammates and things are no different for Farr.
"I do consider myself a leader on my team because I'm responsible and I care about my fellow teammates' success," Farr said.
Even though Farr had success last season, she knows she has things to work on to make this season better.
"Last year I wish I would've been able to focus on myself more," Farr said. "In track it's very easy to get caught up supporting other people's success. This year I'm trying to take everything I do more seriously."
This will be Farr's last season throwing because she will not be competing in college next year.
"I have decided to not do track in college because I wanted a chance to be completely focused on my academics," Farr said.
Since Farr is in her last season and she will not be playing in college, there are some things that she will miss about track and field.
"What I'm going to miss about track the most is my coach because it's rare to find someone who still is so passionate about a program that they've had for so many years," Farr said. "The strict rules and hard workouts make our girls track team nothing like any other sport at our school."
Look for Farr to accomplish her goals and have a good final season of throwing.