Is "Fishing for Fishies" a Catch?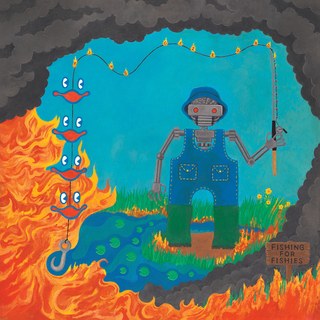 King Gizzard and the Lizard Wizard have just released their fourteenth album, titled Fishing for Fishies. King Gizzard are a psychedelic rock band from Melbourne, Australia.
What first brought me to King Gizzard was their album Nonagon Infinity, which was a batch of nine songs that seamlessly flowed into each other, with the final song chugging into the first song, giving the album the illusion of infinity (hence the name, Nonagon Infinity).
2017 continued this trend of experimentation, the band releasing five albums within the year. Flying Microtonal Banana experimented with micro-tonal tuning, Murder of the Universe was a concept album sprinkled with spoken word, divided into 3 chapters, and so on. You get the picture.
After a quiet 2018, King Gizzard has come back. How does this release shape up?
King Gizzard have made another great album. Something that makes this band interesting to me is their experimentation from album to album. While they remain a psych rock band through and through with each release, each album sees them taking a little twist to their existing sound. Fishing for Fishies, for the most part, goes in a blues direction. It isn't unusual to hear bluesy guitar riffs or even a harmonica or two on this record, setting this album apart from everything they have done so far.
This album contains commentary about the environment in some form or another in nearly every song. The title track, "Fishing for Fishies", is a strange, almost childlike song about how fishing must be terrible for fishes. The song sounds upbeat with the perky guitar and high pitched vocals. This song sounds like it would fit on a fishing children's TV show, except for the dark undertone the lyrics bring. While the songs don't go extremely in depth with their environmentalism, it brings cohesion to the album along with the bluesy sound.
"Real's Not Real" is one of my favorite songs off the album, starting off with a brash guitar riff and bass line that switches to breezy and groovy piano. The verses and the refrain switch off with the tone of the lyrics, creating an interesting dynamic, finally ending off with a killer harmonica solo.
This bluesy aesthetic takes a backseat for the rest of the album with "Arcarine". This song has middle eastern riffs and percussion with a softer, floating sound, all with the familiar blues aspects. The song is about a bee becoming infected with Arcarine disease, with the lyrics referencing the terrible life the bee has as a result. This is one of the two more synth influenced songs on the album, ending with an amazing but completely out of place booming drum and bass inspired synth solo. This song is hard to describe, I highly recommend giving it a listen. However, do not expect the rest of the album to sound like this.
The album takes a blunt transformation from environmental to science fiction with the song "Cyboogie". This song is extremely different from the rest of the album, with this song feeling like it came from a dystopian future where robots have taken over the world. This song is literally about a man after having just transformed himself into a cyborg. If this sounds surprising, remember that you are listening to a band called "King Gizzard and the Lizard Wizard".
Overall, I really enjoyed this project. This album does not have the same oomph of other records like Nonagon Infinity, nor does it have the same laid back vibe of albums like Sketches of Brunswick East, yet when I was listening to it I never really felt it needed any of that. Fishing for Fishies is a solid addition to the group's discography. If you're into King Gizzard and the Lizard Wizard, or you're interesting in figuring out what a psych-blues album would sound like, this album is for you.