Should You be IGOR to Hear Tyler the Creator's New Album?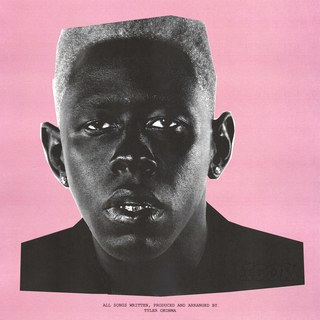 Tyler the Creator released his sixth studio album titled IGOR last Friday. Tyler the Creator is a man of many talents, from rapping, to producing, to singing, and even fashion design. Tyler the Creator, former leader of the defunct rap group Odd Future, has been praised for having a strong artistic vision; his music from album to album has a specific aesthetic that is fully explored throughout the track list.
Tyler burst onto the scene with albums such as Goblin and Wolf, as well as through Odd Future, but I was introduced to him through his 2017 album Flower Boy, one of my favorite albums of that year. Flower Boy was a masterful combination of slick, clean, beautiful R&B and Tyler's signature rapping style. The album had both beautiful songs and bangers; there was stuff to love for everybody. My hype for his new album was immense, due to how much I loved his previous album.
IGOR was not what I was expecting. Even his last album saw Tyler's rapping take a backseat to the instrumentals and features, but this album takes it to a whole new level. There are some songs on here with no rapping and only vocals, some from Tyler himself.
This album combines the excellent dynamic songwriting of Flower Boy with the abrasive, harsh sounds of Cherry Bomb. This album is not nearly as beautiful as Flower Boy, but instead goes in a different direction. The album cover says it all, the album somehow balances pink, lovey dovey sounds with freakish, almost gothic levels of bass and percussion. It creates an interesting dynamic, even more polar than Flower Boy.
This album is instrumental heavy; the lyrics are often either simple or sparse, particularly on songs like "IGOR'S THEME" and "EARFQUAKE". That being said, this album has a loose concept to it, seeing Tyler fall in and out of love with someone through the album. However, I sort of saw this as half baked, due to the lack of depth of the story in the lyrics.
That being said, this album is still a journey. The sound of the album is unlike anything I've heard from Tyler before. The song "NEW MAGIC WAND" is an excellent rap song, the beat structured with a dark, booming bass with chirpy percussion. The song transitions towards multiple vocal motifs that work extremely well. A massive strength of the album is how Tyler gets the listener to feel the vibe of the song not only through the instrumental, but also through tiny vocal details, like the recurring riff  "Please don't leave me". Near the end of the song, the climax has the bass go even harder and Tyler has an amazing flow. This song is amazing.
From there Tyler transitions into "A BOY IS A GUN", which uses sampling extremely effectively. The beat repeats every four measures, but takes a unique twist with every repetition, making it an extremely dynamic and impressive song. It's like a climax happens every few seconds. The vocal refrains on this song are top notch as well. The details on this song are extremely impressive, from spontaneous piano, synth, and guitar solos, to altering the beat with seemingly every repetition.
The other half of this album sees Tyler the Creator taking more of an R&B approach, which is also done extremely successfully. The song "RUNNING OUT OF TIME" takes Tyler's strengths as a rap producer and translates them into a beautifully complex, chilled out song. This song is like if Frank Ocean made a louder song, and it works well. The instrumental break at the second half of the song followed by a Tyler verse and beautiful vocal melodies works extremely well.
The album ends beautifully with the tracks like "GONE GONE/THANK YOU". This song is so beautiful, particularly with the refrain "My love's gone" throughout the beginning of the track. The details on this song are amazing, it takes multiple listens to really take in all the details in the instrumental. This song is extremely cathartic.
The song "PUPPET", while having a great start with Tyler's flow and storytelling, sort of peters out in an unsatisfying way, particularly with Kanye West's verse in the end. The instrumental is beautiful after the middle section, but this is the sort of song I need to be in the mood for. Even here, the instrumental has many redeeming qualities, especially the beat switch at the end of the song. So good.
My least favorite song has to be "IGOR'S THEME". While it starts out sounding like it's going to be great, Tyler doesn't do much with the song. Lil Uzi Vert has vocals on the track which are pretty interesting, but other than that there's not much to the song. I thought it was an underwhelming way to start the album off.
Despite a couple disappointing segments of a few songs, this is a great album. If you're a fan of Tyler the Creator's music, especially his earlier stuff, there may be quite a few songs that take awhile to get used to. If you're a fan of Tyler the Creator as a person, I highly recommend giving this album a listen. This album shows tremendous growth with not only Tyler's music, but him as a person. If you want a unique album experience, listen to IGOR.