Kim's Bakery: Unique Treats and Yummy Eats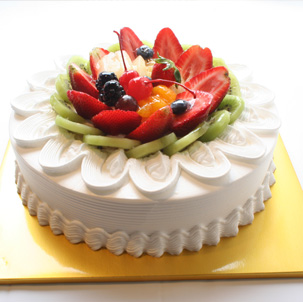 Lee Foust, Staff Writer
May 23, 2019
Hang on for a minute...we're trying to find some more stories you might like.
Kim's Bakery is a small, family-owned store selling Korean and French-style pastries and baked goods. The shop is located in the Woodchase plaza right by the 141 exit and opened about 9 years ago.
The store is owned by a Korean family who wanted to bring fresh, all-natural, homemade baked goods to the public. Everything is made from scratch and checked for quality and flavor. Most of their products are individually wrapped and you can order single slices of many of their cakes, making it easy to pick and choose a wide variety of goodies from each visit.
The store blends Korean and French recipes and sells over 150 different items. Kim's offers both sweet and savory creations, with everything from cakes, cookies, and desserts to unique bread and rich meat or veggie filled pastries. They also do wedding and holiday cakes if ordered.
Some of my personal favorite items are the coconut chip cookies, hotdog pizzas, whipped cream bread, and fruit cake. The coconut chip cookies are flat, crispy discs of sweetened coconut flakes toasted to perfection. I love coconut so these are one of my favorite items, but if that's not your thing they have dozens of other options. The hotdog pizza is a bit of a strange one, but it's delicious. It's made by wrapping slices of hotdog in pastry dough, sprinkling cheese on top, cooking it, and then drizzling ketchup over it. Sounds weird, but they're amazing on top of being shelf stable, so you can keep them in the pantry.
The whipped cream bread is pretty simple, just bread with a sweet cream filling. The bread is nice and fluffy and the whipped cream isn't super sweet, so it makes a nice snack. But my absolute favorite item is the fruit cake. This is a round, super moist white cake with small chunks of fruit baked into it. The cake has whipped cream and fruit slices in between each layer, and the whole cake is decorated with the whipped cream. On top is an arrangement of fruit covered in a sweet glaze. I'm not a big cake person, but this is one of the best desserts I've ever had and Kim's Bakery makes a fantastic fruit cake.
The wide variety and high quality of all of Kim's items make this quaint little bakery a great stop for unique treats. It is a single, family-owned store so prices can run a little high, but you know exactly where the money is going and their products are amazing. If you're ever in search of a sweet treat or experimenting with some foreign flavors, this store is always close to home.