Why You Should Read "Beloved" by Toni Morrison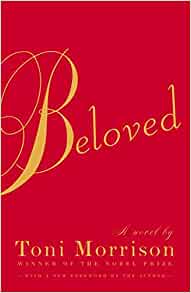 Imagine having to make this choice: your baby lives a life of slavery, or your baby must be killed. Toni Morrison in her magnum opus "Beloved" is not afraid to ask this question. 
"Beloved" is about a former slave, named Sethe, living in 1870s Ohio. The novel follows Sethe and her daughter Denver after the return of Sethe's old slave-acquaintance, Paul D, and the mysterious arrival of a young woman named Beloved.
Having read this book twice, I can now say that this is one of my favorite books I have ever read.
This book is a wet sponge of characterization, symbolism, and subtext. This feels much longer than a 275 page book, in the best way possible.
This book sets itself apart from others in multiple ways, particularly through its style of storytelling. Morrison plays with story structure throughout the novel. Rather than starting from the beginning of Sethe's life onward, this book jumps around through the use of flashbacks, particularly from Sethe. The information received later in the book completely changes how characters are perceived in the beginning of the book. This makes this book super re-readable.
This book also sets itself apart through the blurred lines between natural and supernatural. In some places, this book reads like a horror movie; there are multiple passages of insane fantastic events, a technique called "magical realism". This book was unlike anything I've ever read before in how this literary tactic was used. 
The character development in this novel is also some of the best I've ever read. This book is heavily focused on the main characters, so very little time is devoted to developing classic "villains". In doing so, Morrison is able to expertly illustrate how complicated the family is. This is also achieved through Morrison's non-linear storytelling. 
While this book is entertaining and interesting, this is not a fun book. This book is a harrowing look at slavery, with no shortage of death, torture, and even infanticide. I have never read a book that has as vividly described slavery. This is easily the most disturbing book I have ever read. 
This book is extremely dense, to the point that critics have called her overly complicated, pretentious, and "only for English majors". I wholeheartedly disagree with that criticism. I think everybody would benefit from reading this book. Even though this book is not easily digestible, this book has so much value. As a person with privilege, it is easy to forget how lucky I am to live both in the time period and place I live now. A book like "Beloved" does an excellent job at putting into perspective how terrible life and humanity can be. 
If you want a feel-good novel to distract you from this uncertain time, save this for a few months from now. If you want something to bury yourself into for weeks to come, I highly recommend reading this book as soon as you can.