PCH Alum Makes it to the Super Bowl
Previous PCH Dance Team member on the Chiefs cheerleading squad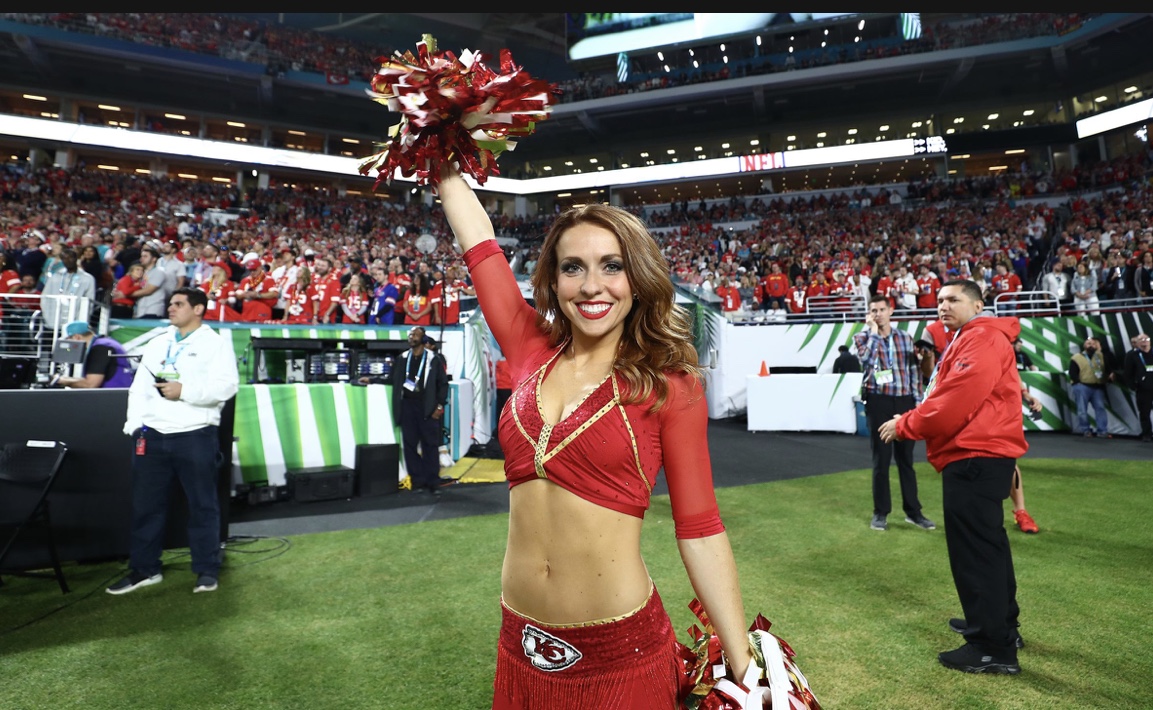 Teacher by day and cheerleader by night. Stefanie Hillhouse is one of the PCH alumni, along with football defensive tackle, Khalen Saunders, who were a part of the first Kansas City Chiefs Superbowl win against the San Francisco 49ers.
However, many people don't think about the hard work that it takes to make it to the Superbowl whether it's playing football, a coach, cheerleader, and so much more important people behind the scenes.
This was Hillhouse's second year on the chiefs cheerleading team and she is also planning on trying out for the 2020-2021 season. However, while tryouts were postponed due to the COVID-19 outbreak, she is still ready to tryout when she gets the chance. Hillhouse plans on continuing her career for the Chiefs as long as it continues to make her happy.
"I'm not sure what the future holds. I'm a firm believer to pursue what makes you happy and dancing has always made me my happiest," Hillhouse said. "I won't put an age limit on dancing whether it be on the team or recreational."
There are many things that it requires to be a good professional cheerleader. Not only does one have to be a skillful dancer, but it also takes a lot of other important qualities. The Chiefs cheerleaders all bring good leadership qualities that they want to display to everyone that comes to watch them perform.
"As a Chiefs Cheerleader, you're an ambassador for the organization and you represent the entire city," Hillhouse said. "You not only have to be a talented dancer and athlete, but you need to be very knowledgeable about football and have great communication skills. We are more than what you see on game day."
The cheerleaders are required to have a good football knowledge to be on the cheerleading squad. It is important for them to be knowledgeable towards something they are working really hard for.
This is displayed through the Chiefs tryout process. The girls who are trying out are required to do a sideline routine that they rehearse but also create a solo that they will perform in front of the group. Not only do they have to dance, but they also do interviews to test their football knowledge, to see if they are a good public speaker and would have good media communication skills.
The tryout process is very particular and many girls, including Hillhouse don't make the team their first year. The team wants to make sure these are good representatives for the team.
Another thing many people may not know about the team is that they all have day jobs and dancing is usually what they do after their full time jobs. Hillhouse is a special education elementary school teacher in the Blue Valley school district. However, many dancers on the team are also attorneys, nurses, engineers, and so many other occupations as well.
Hillhouse has been a dancer for the majority of her life. While she didn't enjoy dancing when she was younger, when she joined a hip hop class in middle school, she eventually grew to love it.
Hillhouse was even a dancer on the PCH dance team back in high school. She was on the dance team all four years of high school. She was on the JV dance team her freshman year and was on the varsity dance team her other three years. She was even captain her senior year on the team.
"Some of my favorite high school memories were with my teammates," Hillhouse said. "My absolute favorite part was performing at pep rallies. I am still friends with some of the girls I danced with."
Hillhouse continued her dance career as a Rock Chalk dancer at the University of Kansas. After her first four years she quit dance to pursue her masters degree but knew she was missing dance which led her to wanting to try out for the Chiefs.
"After attending my first Chiefs game, I was in awe of the fan experience," Hillhouse said. "There is nothing like Arrowhead stadium and Chiefs kingdom. My heart was set on making the team."
After working hard to make the team and attending many games and practices, Hillhouse had the ability to be a part of a Superbowl winning cheer team. For the Chiefs first win in 50 years, Hillhouse felt very lucky to be a part of this moment.
"It was an absolute dream and something that I had never expected in my lifetime. A lot of stars have to align to get to be a cheerleader for a Super Bowl Champion team. Kansas City waited 50 years for this," Hillhouse said.
Throughout the Superbowl game Hillhouse didn't have complete faith they were going to win because the Chiefs were down in the fourth quarter. She was getting ready for a loss and just happy to have this great experience. However, the chiefs ended up making a huge comeback.
"Our team does what they do best, they made an extreme comeback right when it mattered most," Hillhouse said. "It was such an adrenaline rush being on the field. That was the biggest dance stage of my life and I am incredibly grateful for that experience."
Leave a Comment