Big Events Postponed Due To COVID-19
Cancellations Among Major Global Events Wake Public up to Severity of Pandemic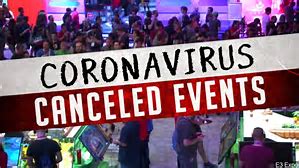 As everyone knows by now, COVID-19 has caused life altering changes for everyone in more than a few ways. For all kids, teenagers, and college students, this is happening through the closing of schools. For adults, this is happening through the closures of workplaces and non-essential workers. And, for everyone as a whole, this is happening through the major annual global events that are no longer possible. 
Although Coronavirus has been serious since December, the real worry didn't begin until big worldwide events started being affected and called off during the middle of March. The first of which was all professional level sports. The Major League Baseball Players Association cancelled the remainder of its MLB Spring Training games along with the announcement on March 11 that the start of the 2020 regular season that was originally scheduled for March 26 would also be delayed until further notice. 
Baseball of course wasn't the only sport affected though. The National Hockey League, Major League Soccer, and National Basketball Association also announced the suspension of their seasons. The cancellations at first was only for a 30-day period which continues being extended as cases keep growing.
But it doesn't end at live sports. The 2020 Summer Olympics were set to take place in Tokyo from July 24 to Aug. 9 followed by the Paralympics scheduled for Aug. 25 to Sept. 6. This global competition is the biggest sporting event to be affected by the coronavirus pandemic. It's new dates are now set to take place in the summer of 2021 from July 23 to Aug. 8. This is the first major disruption to the Olympics since World War II, when the 1944 Summer Olympics were cancelled. Fortunately, this disruption will have no interference on the 4 year agenda the Olympics follow and the 2024 Olympics will still take place in Paris as it was always meant to.
These cancellations further extend to events such as the Boston Marathon, PGA tournaments, and much more that goes beyond sports. In the pop culture realm, all concerts have been cancelled for the foreseeable future.
Coachella is one huge music event that has been cancelled in addition to all of the independent concerts that have been called off. Coachella is a music festival held in Indio, California every year since 1999. Coachella which typically has a pull of about 100,000 attendees per day lasts for two weekends originally set for April 10-12 and April 17-19 but has since been moved to October 9-11 and October 16-18. 
A statement from Goldenvoice, the production company behind the festival said, "at the direction of the County of Riverside and local health authorities, we must sadly confirm the rescheduling of Coachella due to COVID-19 concerns."
Another musically charged event no longer taking place this year for the first time since 1956 is the Eurovision Song Contest. Eurovision is an annual international song competition, held every year by the Eurovision broadcasting organization with participants representing primarily European countries. This event originally set for May 16 does not have a new date picked out yet. It has not been announced yet whether or not this year's contestants will be invited back for next year's contest.
Global cancellations are not the only things having effects on people's lives, though. Coronavirus is impacting lives in huge ways all around the globe in numerous ways both big and small, but these larger scale cancellations have come as more of a true wakeup call to how bad the situation really is.