How online school affects special education students
Virtual learning at Central High accommodates all students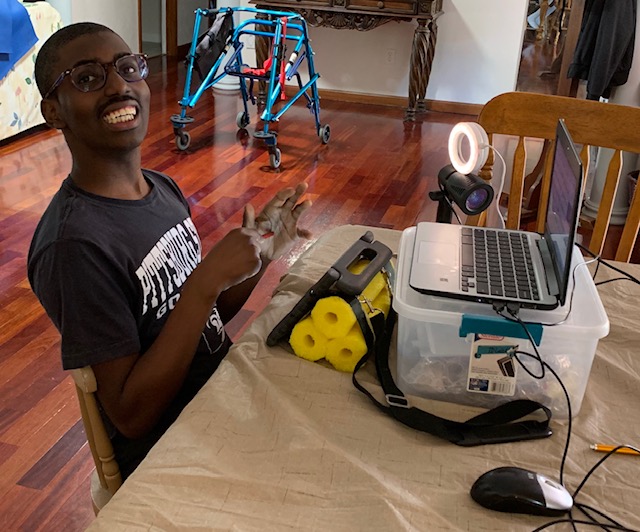 Emma Li, Reporter
September 11, 2020
Waldy Upchurch just graduated with the class of 2020, and is staying with Parkway Central High for vocational classes. He takes the same four classes each day at home through Zoom, and his favorite class is math. Upchurch has cerebral palsy, so Parkway's special education program has taken his needs into consideration amidst the changes brought about in virtual learning. His experience using his speaking device may have eased his transition into online learning. 
"School is okay. I like my computer," Upchurch said. 
In the midst of a global pandemic that has affected everyone in the world, COVID-19 has driven most of the population inside. Parkway school district has opted for virtual learning for at least the first quarter in the 2020-2021 school year in order to keep their students safe. Each student, whether in the special or general education program, is approaching the transition to online learning in their own way.
Previously, when planning for online school, administrators had to keep in mind that special education services provided at Central High are meant to still be additional support, rather than completely separate classes, when considering the wide range of students. 
Holly Redman, the supervisor for special education, gave insight into the preparations for this school year.
"[The] schedule for students that receive special education services is very similar, and in most cases exactly like that of any other student. [When planning for this school year,] special education [teachers] have reached out to parents and students to seek input into the creation of the distance learning plan," Redman said. 
Marlene Strutz, Central High's school psychologist for special education, believes that whether a student is in the special or general education program is not the defining factor as to how they are doing in regards to recent events.
"I just think it's very difficult to make broad generalizations to say that general education students are doing better than special education students, because I would say you may have students in both camps that are having more anxiety, and [others who] are doing okay," Strutz said. 
After using the input that students and parents have given the school district, they have set up the best daily school routine that can be managed under the present circumstances. 
Many people are still adjusting to how school operates now, and the ranges of sentiments are universal in its variety. However, the one thing that seems to be a recurring theme across all students and staff is that human connection is missed. The COVID-19 pandemic is something that everyone can associate themselves with, making it a way to bring many people together. However, connecting with people through a screen still is not the same.
"I miss talking to my friends," Upchurch said.