STL Eats: Hidden Restaurants Around the Lou
When you first think of St. Louis, I doubt that the dining scene is the first thing to come to your mind. However, there are plenty of hidden gems in the area. Three restaurants you may not know about deserve recognition. These restaurants are also COVID friendly with carry out and patio dining options.
The first restaurant on our list is Retreat GastroPub, located In the Central West End near St. Louis' "cortex". Founded in 2015, this restaurant offers a modern, yet rustic, pub dining experience.
Matt Mueller is a food salesman who sells to Retreat.
"What makes retreat special is the great atmosphere, and the made-from-scratch menu," Mueller said.
Mueller recommends the Farmhouse Burger. Other menu items include a classic BLT and roasted potatoes. They also have a detailed drink menu, for the over 21 crowd.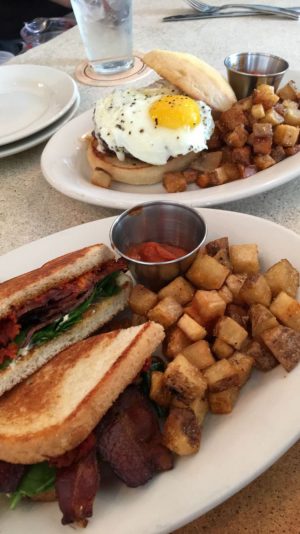 Retreat Gastropub has a sister restaurant called Yellowbelly. Founded in 2018 by Travis Howard and Tim Wiggins, it is located in the heart of the Central West End. With a modern bar feeling like just retreat, they incorporate a tropical feel into the dining experience. With menu items like "The Big Kahuna Burger" and "deviled crab," everything is to die for.
"Yellowbelly has a bright and modern feel. We crafted a unique menu and bar," Howard said.
The last restaurant is Shift, previously named Savage. This restaurant used to be the A & B liquor market right next to Lafayette Square. Due to COVID, they offer a limited menu with about eight items. The staff is attentive and cater to your needs.
Head chef JT Bloch has a few menu items to suggest to diners.
"For a first time customer, I recommend the Italian sausage sandwich, which has peppers, tomato jam, and pickled kale. Everything is made from scratch using high quality ingredients," Bloch said.
Other menu items include the French onion melt (which has Funyuns!) and the Foot long chicken wiener.