Why is it important to support black-owned businesses?
With the recent attention to the Black Lives Matter movement, many are left wondering what they can do to make a difference. The answer is quite simple.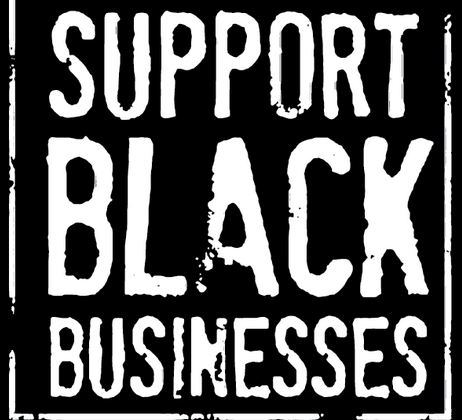 The deaths of Ahmaud Arbery, George Floyd, and Breonna Taylor brought renewed attention to the Black Lives Matter (BLM) movement this summer. With an issue systemically rooted and centuries old, young people can be left wondering how they can have any impact in promoting change and healing our country. We all support businesses every day, so one simple adjustment we can make to our daily lives is to intentionally seek out and support black-owned businesses. 
Reine Bayoc started her own business, Sweet Art, almost 12 years ago in December 2008. According to its website, Sweet Art is "a family-owned bakeshop, cafe, art studio located in the St. Louis city." 
"I started baking three or four years before then. Just kind of baking out of my home; doing farmers markets," Bayoc said.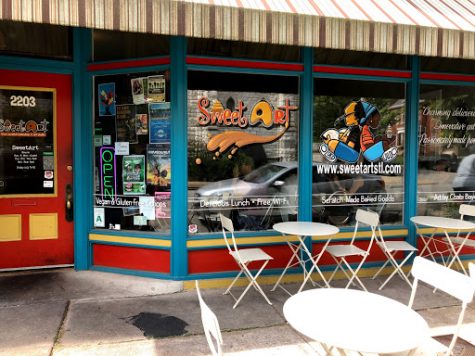 Since Bayoc decided to open the storefront, Sweet Art has become a popular place for cupcakes made from scratch in the St. Louis area. However, as a black-owned business owner, Bayoc did face tribulations when opening her store that have roots in systemic racism.
"I think one of the things that people don't know is that most black-owned businesses are under the radar. I think for a lot of other [non-black-owned] businesses, their marketing is different, the word of mouth is different because family and friends of the business are just a little bit more aware," Bayoc said. "Also, it seems that socially and culturally, publications tend to gravitate toward different [non-black-owned] businesses and I don't know if it's always on purpose but because of that I think that a lot of black businesses are harder to find. We're under the radar. We're definitely not mainstream."
Bayoc identified financing as her greatest struggle as a black-owned business owner.
"There are a lot of things that make financing hard and if you're black, it's hard to get financing. And it's the same way in home ownership. We aren't approved for home loans at the rate of non-black people. So there are some things behind the scenes that make it really hard to have a successful business," Bayoc said.
Bayoc argues that such financial struggles add to the importance of supporting black-owned businesses.
"When we [black-owned businesses] open, it's a really big deal. We give all of what we have so that makes it really important for people to come out and support as we open, as we learn, and as we grow," Bayoc said. Bayoc is not alone. 
In an article from the Washington Post which summarized the results of the Federal Bureau of Consumer Financial Protection's 2017 analysis of nationwide lender data, "Black applicants were rejected at more than double the rate of non-Hispanic white applicants on all types of loans, including conventional mortgages originated for bank portfolios or for investors Fannie Mae and Freddie Mac, and government loans (Federal Housing Administration, Department of Veterans Affairs and rural housing). The overall rate of denials of mortgage applications from blacks was 18.4 percent last year, with 13.5 percent for Hispanics and 10.6 percent for Asians. For non-Hispanic whites, it was 8.8 percent."
Another black-owned business owner, Kayla Dennis, founded U.S. Essential Services LLC (U.S.E.) six years ago. U.S.E. provides preventative maintenance and light repairs to heavy fleets. Dennis has founded her business with a simple but important mission: "Safe and Efficient = People Matter."

Dennis identifies the "behind the scenes" obstacles that make financing for black people more difficult in all respects, as systemic racism. For Dennis, systemic racism is the greatest hurdle to overcome as a black-owned business owner.
"Unfortunately many Black entrepreneurs do not have adequate resources and support needed to be successful and that crushes dreaming and exploring. Being limited and treated of less value because of melanin in our skin is a loss for all," Dennis said.
When asked how attention towards her business has been since the recent attention to the BLM movement, Bayoc had a disheartening observation.
"There was a time when it was like, 'Oh my goodness everyone and their mama wants to come.' And now it has settled a bit and I expected that, to be honest. But I do know that I had a lot of new people come during that time who had never heard of Sweet Art even though we've been here for so long. Are they still supporting? I'm not sure," Bayoc said.
Unfortunately, this came as no surprise to Bayoc. 
"…that's just the nature of how things typically go. Something gets a lot of attention and people gravitate towards it and then there's a fallback. It's just the nature of the world. People get really excited about or amped up about really wanting to address police brutality amongst minorities and then it waines," Bayoc said.
When asked the same question, for Dennis, the answer was simple – "No." Her business has not received any more attention as a result of the recent attention to the BLM movement.
Not every business has benefited in some way from the BLM movement and it seems even those who have were only able to bask in the new interest and support for a short period of time before the next month came and, with it, a new flavor.
So what can we, as people, as a community, a society and a nation, do to prevent history from repeating itself and maintain the momentum of the movement? This question can be answered, quite simply, through the answer to an even greater question: Why is it important to support black-owned businesses?
Dennis identifies her hope for more support towards black-owned businesses as the reason she remains optimistic that change is on the horizon.
"My business is surviving hopeful of opportunity to thrive.  We employ and promote people who look like me and are from underserved communities.  In my 20+ years as an entrepreneur, all my diverse employees have requested is opportunity, resources and advancement in their jobs," Dennis said.
Bayoc reiterates this sentiment through her belief that conscientiously and consistently supporting black-owned businesses helps to spread awareness.
"I think there are some people who are adamant about supporting black-owned businesses but I do feel like there were a group of people who started because it was the flavor of the month and then stopped. But it's really important for people to be mindful about supporting black-owned businesses just as they would support any other businesses. Make a point to actually see us because, oftentimes, we aren't seen," Bayoc said.
Either through resources and promotions or more community awareness, both Dennis and Bayoc identify the importance of supporting black-owned businesses as being a means for black peoples and businesses to receive the same opportunities as all other peoples and businesses.
However, Dennis does not believe that the benefits of supporting black-owned businesses stops among the black community. Dennis argues supporting black-owned businesses as a necessity under the belief that doing so will serve to benefit our entire society – not just the minorities.
"Black-owned businesses bring value to business sectors as employers of black people and high performance partners. In my opinion diversity enriches industry and professional cultures," Dennis said.
Despite systemic racism and oppression, Bayoc has found a way to remain optimistic for our country's future.
"I am prayerful that the current civil rights discourse actually grows in a way that things actively change," Bayoc said. "My fear is that the discourse will just happen and then it will settle… and that it will be years and years and centuries of discourse because historically that's how it's been."
For Bayoc, it is essential that, as a nation, we do not allow for history to repeat itself.
"We had a civil rights movement and we fought for the right to vote and we fought for equal housing, equal schooling and people are still being murdered by police officers because they're black. So I'm hopeful that the discourse actually gets to a point where things actively change because that hasn't happened," Bayoc said.
Dennis shares Bayoc's hope for a future of change and equity.
"…unfortunately for many black people BLM is not new.  Most of us know our Black Lives Matter yet we navigate in conflicting environments where we often feel marginalized and devalued for our contributions.  It is very promising that there is new acknowledgment, engagement and support from other races," Dennis said.
While Bayoc's hope extends towards our growth as a country, the root of her optimism stems from her other job besides being a black-owned business owner – a mom.
"As a mother of young black children I'm so fearful about what the world is going to be like for them once they're really out on their own," Bayoc said. "I hope this discourse actually does something this time but I'm not sure it will. I have to remain optimistic and I have to surround my friends and family in prayer but I'm just really hopeful that something happens this time because the world needs it. The world just needs it."
View Comments (2)