Repairing a National Monument
A group of students took first place in the Gateway Arch Annual Engineering Competition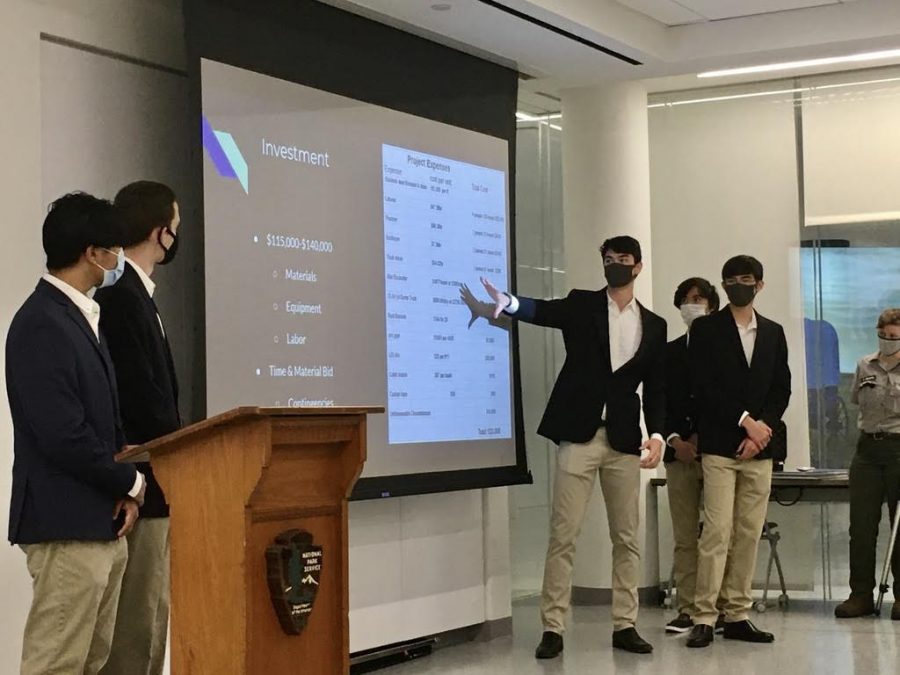 High school students are always working through hypothetical problems, but a group of Parkway Central students got the chance to solve a real life problem involving one of St. Louis's most famous landmarks.
Every year the Gateway Arch National Park Services challenges high school students to come up with ways to improve the Arch and its surroundings. 
"It's a yearly engineering competition (with a new issue that needs to be solved around the arch grounds) that goes between high school and the college-level that was recently started a few years ago by the Arch groundskeepers," junior Ethan Gegg said.
This year five students participated in the Gateway Arch Annual Engineering Challenge. This group consisted of seniors Jordyn Gegg, Eric Chen, Joshua Laue, Jon Volpe and sophomore Ethan Gegg. This was the first year Parkway Central students have participated in this competition. 
Whenever there is heavy rain, large water puddles form on the sidewalks which affects the park's appearance and are a safety problem in the winter when it freezes. The Parkway Central team worked to find a solution to this problem.
"This year there was flooding that ruined all the trees and soil around the area and the challenge was to create a solution to solve the flooding problem," Chen said. 
The five Central students also known as the PCH Arch Drainage Design team conducted ample research and made multiple trips to the arch ground during inclement weather to try and think of ways they could solve the problem. After contemplating many options, they decided to go with an integrated "slot" drainage system.
"We had Zoom calls two to three times a week and we did research on different things like types of drains, the materials that we will use, the costs of the entire thing, and how long it would take for everything to be installed," Chen said.
The boys led the team on their own and did not have anyone supervise the team, but they did get some advice from adults.
"We had the previous control Robotics coach, Jason Gegg, help to give some advice for our team, as well as tips from an experienced civil engineer. Otherwise, the supervision and scheduling of meetings was left up to our team of five," Ethan said.
When creating their proposal, there were a few key constraints they had to follow since the Gateway Arch is a national monument and any changes to the property require an approved act from Congress. For example, theArch grounds landscaping, utility lines and sidewalks could not be changed, the soil composition could not be changed, and lastly, the St. Louis Union workforce was required.
Their proposal incorporated a clever design solution and a well-thought-out bid package that included timelines, cost estimates and contingency plans. The boys presented their overall bid package and executive summary on Nov. 19 at the Gateway Arch Museum to a panel of expert engineering judges.
"The team's proposal was a slot drain with a two-inch slot that went around the sidewalk and drained into six-inch circumference pipes underground and the drain deposited the water into nearby storm drains," Chen said.
The judges were judging based on the practicality of the design, how well the solution blended into the existing environment and the efficient use of taxpayer dollars.
The group of boys competed against three other private high schools which were Gibualt Catholic, Christian Brothers College, and St. Louis University High School.
The PCH Arch Drainage Design team took home a win and as a result unseated the prior two-year back-to-back champions, Christian Brothers College High School. 
"It felt surprising at first for sure. We had no idea of what to expect, but we stuck with our idea confidently, against the three private high schools we were against," Ethan said. "It definitely felt good though to know what work we did had paid off."
While the boys did win the competition, the Arch also has professionals on the job.
"From one of the competition supervisors, we heard that a professional engineer is on the job as well, so it will be interesting to see what design is going to be used, and how similar it will be to ours. As far as we've heard though, our design was impressive for a high school team," Ethan said.