Dua Goes Disco on "Future Nostalgia"
In preparation for the Grammys on March 14, the Corral will be reviewing every Album of the Year nomination leading up to the awards.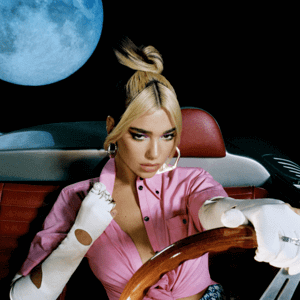 Dua Lipa is an emerging pop super-star, with massive hits like "Don't Start Now" and "Break My Heart" dominating the charts last year. Her 2020 album "Future Nostalgia", packed with hits, has been nominated for Album of the Year by the Grammys. Is "Future Nostalgia" a good time, or is it just another disposable pop album?
I had a great time listening to this album. When this album is at it's best, it's a punchy, exhilarating, and euphoric pop album.
There are a lot of highlights here. "Levitating" is a super fun track. I adore this instrumental: the bass line, the bouncy synths, and the robotic backing vocals throughout make this song a great experience with headphones. I also think Dua Lipa's loose vocal performance and fun lyrics are perfect for the song. This song also does a great job at staying fresh. There are so many different sections here that prevent this song from becoming repetitive. This is a fantastic and well crafted pop song.
I don't think there's a single track on this album without an absolutely killer bass line. "Hallucinate" is no exception. I think that this instrumental does a great job at building tension before the chorus. It sounds like the song is going through a whirlpool with the wobbly synths and vocal effects, then all of a sudden the bass comes back in and Dua Lipa's voice steals the show. Seriously, she kills it.
Despite the consistent 80's nostalgia aesthetic, Dua Lipa does a great job taking her songs in unique directions on numerous tracks. I love how many instruments are on the track "Love Again". The track switches from bass and synths to acoustic guitar to even some energetic violin. There's a lot going on here, but it comes together into one of my favorite songs on the album.
Despite all those great songs, the title track might be my favorite of them all. This song sounds like the disco theme to a robot spy movie. If that doesn't sell you on this song, I don't know what could. This song is super playful.  The instrumental contains what sounds like a literal robot saying "future nostalgia" throughout the track. Isn't that the coolest thing you've ever heard? There's also an incredible breakdown near the last third of the track. The chorus here is also totally infectious. The lyrics make this a great female empowerment track.
I also think that the placement of the track "Break My Heart" in the track list is perfect. It's near the end, so out of nowhere comes one of the best Billboard Hot-100 hits of 2020. Especially with how the instrumental comes in with just that famous bass line, it's a great moment on the album.
While this album has high highs, it also has some low lows. The song "Good in Bed" has a cool instrumental, but this chorus is really annoying. It makes me sad that this instrumental was used with this vocal performance and these lyrics. While I'm not against this track's concept, this track literally rhymes "bad" with "sad" and "mad". Those types of rhymes are reserved for Dr. Seuss. This track needed some work.
I also think that the final track "Boys Will Be Boys" is overall a miss. This track has the opposite problem to "Good in Bed". I like the lyrics, but I think this song sounds so boring. I also think it's a strange decision to have your final statement of this fun dance album to be a track as serious as this. This is an okay song, but a bad closer. I think if Dua Lipa would have had songs lyrically similar to this throughout the album it would be less abrupt and awkward in context with the rest of the album. This was not the place for this song.
Overall, I enjoyed this album a lot more than I thought I would. The instrumentals and vocal performances are stellar on the majority of the tracks here. I also loved the aesthetic of this album. The title really captured Dua Lipa's sound here. Despite some misses, I would recommend this album to anyone that wants a good pop album.
Favorite Songs: "Future Nostalgia", "Levitating", "Pretty Please", "Hallucinate", "Love Again", "Break My Heart"
Least Favorite Song: "Good in Bed" 
Rating: 7/10