"Nomadland" Is Essential Viewing
In preparation for the Academy Awards on April 25th, the Corral will be reviewing every potential Best Picture nomination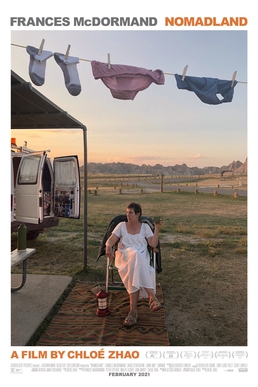 "Nomadland", directed by Chloé Zhao, stars Frances McDormand as Fern, a woman who lost their home in the Great Recession and travels across the country living in her van, joining a community of other American nomads.
"Nomadland" was made in an unorthodox way. Rather than having actors play all of the parts, most of the characters here play fictionalized versions of themselves. These nomads Fern meets throughout the movie actually live life the way they do in the movie. Fern goes to an event called the "Rubber Tramp Rendezvous", which is led by American nomadic influencer Bob Wells. This event is real, and the real Bob Wells plays himself in this story. By making the movie this way, this movie feels as much like a documentary as a fictional story.
This movie structurally is also unique. Rather than having a beginning, middle, and end, this film feels much more like a series of loosely connected vignettes. The film focuses on Fern with many characters going in and out of Fern's life. This is a clever way of adding more to the realistic, documentary vibe the production of this movie provides.
Frances McDormand as Fern is unbelievable. The strongest aspect of this movie is its realism, and this movie could not have accomplished that without a stunning performance from her. Fern feels just as real as the other real people in the movie. That being said, having real people play themselves did so much for this movie emotionally. When people talk throughout this movie, it hits so much harder knowing that these stories are real. I wonder what the script of this movie looks like, because there is a ton of dialogue here that feels so natural and genuine. I really hope more movies are made like this.
Even with such a realistic presentation, "Nomadland" does an incredible job building tension. Fern throughout the film is constantly searching for work. She has little money, few possessions, and few close friends. From the very beginning, this film makes you very emotionally attached to Fern. This dynamic creates some scenes that are just as suspenseful as any action movie I have ever seen.
The reasons I don't love this movie are entirely personal. Because this movie doesn't have a specific beginning, middle, and end, I feel like this movie did not end with as much impact as it could have with more structure. I understand that this movie is going for realism, so it wouldn't necessarily make sense to have a satisfying ending, but I still think this movie meandered around a little too long by the end.
Personally, I also appreciate it when technical aspects of a movie add to what the movie is trying to say. As a result of this focus on realism, the camera work and music do more to enhance the aesthetic than the themes. This is not an incorrect choice, I just wish this movie had more going on under the surface.
While I think this movie is extremely impressive, this is not my favorite movie I have seen so far. This movie is beautiful, emotional, and brings a feeling I have never felt watching anything else. I completely understand why many people see this as a masterpiece. This movie had a vision and accomplished that vision flawlessly. I highly recommend that everyone checks this one out. It might blow you away more than me.
Rating: 4/5