"Judas and the Black Messiah": A Daring and Disturbing Tragedy
In preparation for the Academy Awards on April 25th, the Corral will be reviewing and ranking every Best Picture nomination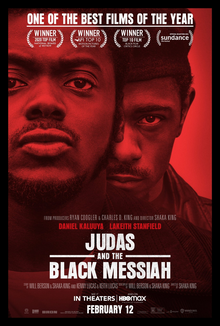 "Judas and the Black Messiah", directed by Shaka King, stars Daniel Kaluuya as leader of the Illinois Black Panther Party Fred Hampton, and Lakeith Stanfield as William O'Neil, an FBI informant working undercover as a member of the Black Panther Party. The film is about the events leading up to Fred Hampton's assassination.
Both Kaluuya and Stanfield kill it in their roles. After watching footage of Fred Hampton, I have to praise both Kaluuya and the script for the accuracy of Hampton's mannerisms. Kaluuya does a fantastic job portraying both the political, public persona of Hampton, but he also does a great job in more subtle moments. While I haven't seen all of his movies, this is a very different performance from his in movies like "Get Out" or "Sicario". This film cements him in my mind as one of the best actors working right now. Stanfield also does an amazing job portraying a conflicted, manipulated FBI informant. Throughout the film, Stanfield has to both portray power and fear as he attempts to blend into the party. He made me really feel bad for him, despite his actions throughout the film. I am disappointed that both of these actors were nominated for Best Supporting Actor rather than lead. These are the two leads of the film, it is a shame neither got all the recognition they deserve.
I love how the story portrays Fred Hampton and the Black Panther Party. Showing the Black Panther Party from the inside is an excellent way to set the record straight about what the party's goals were, where their militancy came from, and how reprehensibly they were treated. The way the ideas of the Black Panther Party are shown in conjunction with William O'Neil's story gives the audience a lot to chew on thematically.
I am also impressed with how faithfully the story of Fred Hampton is told. Both Fred Hampton's partner and son acted as consultants during production. From my research, the vast majority of this film is exactly how the story happened, which makes this story even more insane and disturbing. The FBI and J. Edgar Hoover were disgusting.
The score to this film is flawless. It reminds me of movies like "The Shining" or "There Will Be Blood", where often times pure noise is used to enhance the tone. There are also some fantastic orchestral arrangements throughout. During one of my favorite parts of the film, the tension is super high, and all there is to the score is an upright bass. The minimalism here does a fantastic job at creating a sense of dread.
After watching this film, it makes me like "The Trial of the Chicago 7" even less. "Judas and the Black Messiah" has so much more depth to its characters, storytelling, and themes than Trial. It's disappointing that Sorkin's film, which is focuses on making witty dialogue and a fun story, will likely do much better this Oscar season than a film as creatively daring as King's.
This film is almost flawless. Shaka King does an incredible job, especially considering this is only his second feature length film. I think if anything holds this film back, it's that the style is not consistently executed. There are so many scenes where both the substance and style are perfect. There are others where many aspects are accomplished well, but the same energy and creativity is not quite there. This is extremely nit-picky, but considering how incredible many scenes were, I think Shaka King has a better film in him. I am extremely excited to see King hone his style for the future.
I loved this film. The acting is incredible from both Stanfield and Kaluuya, the story is insane and presented with an engaging style, the film is edited perfectly for building tension, and the music was phenomenal. This is a disturbing watch, but I wouldn't have it any other way. "Judas and the Black Messiah" is the best "Best Picture" nominee I have seen so far.
Rating: 4.5/5