"The Father" is a Mind-bending Portrayal of Aging
In preparation for the Academy Awards on April 25th, the Corral will be reviewing and ranking every Best Picture nomination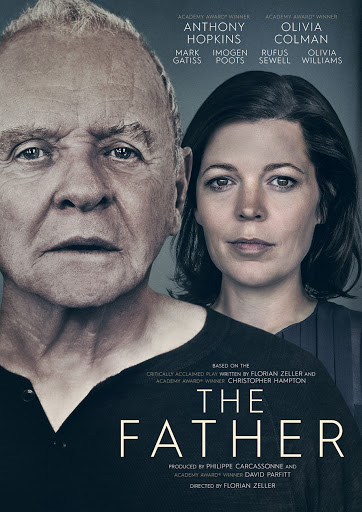 "The Father", directed by Florian Zeller, is about an elderly father, played by Anthony Hopkins, as he and his daughter, played by Olivia Coleman, navigate the challenges of his aging.
What sets this movie apart is the presentation of the story. This movie does an incredible job putting you in the head of the main character. Rather than showing the father from an outside perspective, most of the time the audience is almost as disoriented and confused as him. Creative techniques are used, which I do not want to spoil, that do a fantastic job at doing this. The acting, the production design, the editing, and the sound all add to a surreal experience. This makes this movie uniquely disturbing; I was constantly questioning myself throughout the film on what is and isn't real.
This film would not be what it is without fantastic performances from Anthony Hopkins and Olivia Coleman. Both acting nominations here are completely justified. When they are on screen together, the two perfectly capture their complicated relationship. Both had separate scenes that nearly brought me to tears.
The structure of this film is unconventional. This is very much a slice-of-life type of movie like "Minari" or "Nomadland", except instead of seeing it through a lens you see it through a kaleidoscope: different scenes, settings, and even realities flow in and out of each other. I love what the movie is able to do with this concept, but if I had to nit-pick, I feel like this film could have gone even further with it. In some ways, the dreamlike style of this movie reminds me of "I'm Thinking of Ending Things", and as I was watching I couldn't help but think that this is like that movie on a much smaller scale.
Something else which holds this movie back for me is the length. Even though this is the shortest Best Picture nominated film, at a certain point the story and techniques used felt slightly redundant. I think this movie would have benefited even from just one fewer scene.
Overall, I really liked this film. This has fantastic performances, a creative and thoughtful presentation, beautiful music, and a deeply sad but universal story. This is easily one of the most creative Best Picture nominated movies on the list. I highly recommend this movie, but be warned: you're probably going to cry.
Rating: 4/5