Shooting for the Stars
Freshman Takes on Varsity Basketball
Ever since Sadie Levy (9) was little, she always remembered being active and having some type of sports ball in her hands.
As Levy got older, the desire to play basketball and soccer became stronger, further pushing her to join new teams, and find a position that fits her abilities.
"I've been playing basketball since I was three years old," Levy said. "I first started at the JCC (Jewish Community Center), just doing it with all ages and genders."
Now, Levy is a new varsity member of the Parkway Central Girls' basketball team. Being the only freshman on varsity is a big deal for Levy, especially when fighting for a position to play for on the court.
"I've played point guard, and shooting guard, but for Parkway Central, I have been playing shooting guard," Levy said. "That's my favorite position because it requires you to dribble and shoot, and it's a combination of all the positions."
Playing this sport for almost 11 years now is a huge commitment for Levy. Most of the time, a sport is a place where you can escape without having to worry about school, and can provide endorphins, which are the chemicals the brain releases while exercising which bring positive feelings. It's no surprise Levy feels this way when playing basketball.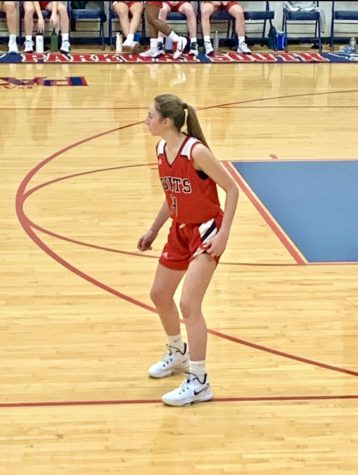 "I just love the sport; it brings me endorphins, and it gives me a break from real life," Levy said. "It just lets me do what I love to do."
As she got older, the desire to play basketball in high school became a goal for her near future. Tryouts for basketball were not easy for Levy.
"It definitely was hard. We had to do a lot of different drills, and we were just constantly moving," Levy said. "My goal was to at least make JV, so I had to try really hard to make sure I could prove to the coaches that I would be a good addition to the team."
After a long week's worth of hard work, sweat, and tears, finding out that she made varsity as a freshman was a big achievement in her book.
"It was very overwhelming, and I had a ton of emotion like I was feeling overwhelmed, excited, stressed, but I am really happy that it happened," Levy said.
Levy and her teammates practice endlessly throughout the whole winter season constantly being looked at by coaches, scouts and parents. However, the combination of a week full of stress and constant practicing can be a lot of pressure on Levy.
"In the end, it definitely is hard and it's a lot of pressure," Levy said. "I have a lot of people to look up to on the team, but I need to try hard since I'm the only freshman and new this year to the team."
As Levy gets older, she hopes to keep moving forward with her basketball dreams, and possibly playing for her dream college in the near future.
"Basketball is a sport I don't think I will ever give up playing. Even when I'm old, and can't walk I will still try to find some way to incorporate it into my life," Levy said. "My goal for this year is to keep working hard, and putting in as much effort into practices as I can, so I can eventually maybe secure the captain position."