As the students are learning to pace their lives in the new semester, some are pacing their steps on the grass for a medal. The Parkway Central cross country teams demonstrate they have no lack of talent this season. The head coach for boys cross country team Hannah Merriman is seeing the varsity boys kicking off a successful season with their exceptional runners.
"Brendan Alfonso and Alex Moresi have been our first two runners in each race," Merriman said. "I'm really excited to see how our seniors Ajay Eisenberg and Colin Recar do. They've had the best summer of training that they've ever had."
The girls cross country team is no less competitive than the boys team. Sarah Burgess, the new assistant coach for girls cross country, believes that the girls team has the potential to succeed this fall.
"I just think that we have a lot of really, really strong runners this season, who are not only talented but are mentally tough," Burgess said. "Sarah Williams is such a hard worker and a leader on the field. She's a really strong runner. Natalia Duvall finished her first meet of the season with blood streaming down her face. So that was really inspiring to watch her push through."
Story continues below advertisement
With a robust team, both girls and boys have a good season opening. They've had five meets so far: Parkway Quad, Fleet Feet Classic, Forest Park XC Festival, Lutheran North CC Invitational and Gans Creek Classic. Both divisions of the girls' team have been placed in the top three for all the meets, while the boys' team has been placed in the top five for four of the meets. Senior Sophia Kim, one of the captains of the girls varsity team, is excited to be winning as a team.
"The best thing about cross country is that even though it's an individual sport, it feels more like a team than any team sport I've done in the past." Kim said. "Your team scores based on what place people get, and then you want the lowest score."
Cross country also allows athletes to focus on their individual achievements. Sophomore Maddy Qian, one of the varsity members, believes that each member plays a part in helping the team win in meets.
"We have a much bigger team than last year. So I'd say that could do some things for us," Qian said. "Even if only three of us get placed, the rest of the girls can get better and be faster. They can push other girls down, so we do better as a team. There's definitely a numbers game."
Junior Brendan Alfonso, one of the varsity member, described how his teammate junior Alex Moresi motivates and helps him run during the meets.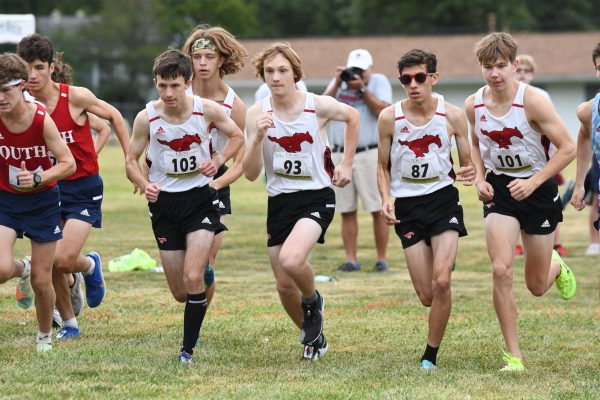 "I contribute a very small amount of points, so that's helpful" Alfonso said. "He's (Moresi) right up with me. We run together in the races and it works very well. If one of us surges up, we'll go and follow, and then we can take down people together."
Attaining such good results at meets is impossible without vigorous training. The athletes have been preparing for a strong season start since the summer.
"They had a camp over the summer that they did for incoming freshmen and returners," Burgess said. "We did start practicing at the beginning of August. We would meet in the mornings, and they would go on long runs, or they would do cross training."
Training can be interesting sometimes depending on the weather and course. Besides the cross country course, the athletes run in many different settings.
"There's two kinds of practices where it can be crazy. We have a long run and we just take a really interesting route through some random unexplored place where we probably hurt ourselves or get lost. That's Fun." Alfonso said. "On the other hand we have our workouts where it's really hot outside. We almost died, but we all made it through."
Following the first week of training outside, coaches moved athletes inside for training because of the extreme heat.
"The first week of school it was 100 degrees outside, we had to be creative with how we did practice," said Merriman. "We used the long hallway and did runs there."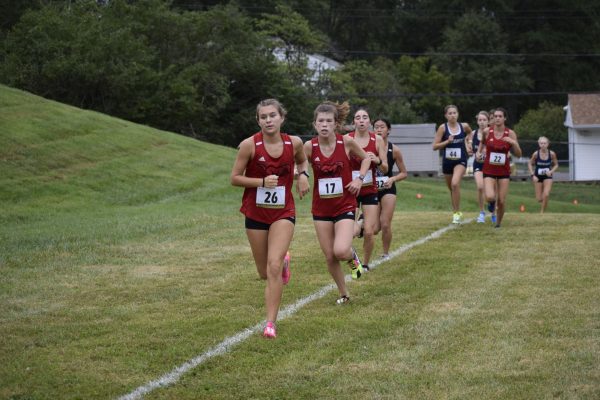 Even for the top-performingmembers on the team, training can be overwhelming sometimes. However, varsity member Ajay Eisenberg believes that hard training is a way of community building within the cross country community.
"Running cross country really pushes everybody mentally and just shows you what you're capable of," Eisenberg said. "Workouts are hard. They're physically and mentally challenging. But it's nice to be going through something right next to somebody who is facing the same struggle."
Cross country training promotes chances for bonding between teammates. Qian described how runners encourage each other during the training.
"Something that I really like about running as a sport is [that] it's like camaraderie," Qian said. "Because when you're like passing each other [during] workouts and runs, you just be like, 'good job!', 'keep going!'. Maybe a little high five or 'you got this, keep it up!'"
Many of the runners agreed that Parkway Central's cross country team fosters an encouraging dynamic for all runners, that's one reason why it attracts so many athletes.
"I like the dynamic we have, because we have a decent amount of people," Qian said. "We all have varying paces. And that just gives way for a really developed team, even though we're all at different stages."
One undecided factor in this season is the boys varsity team. The varsity team consists of seven competing members, as it's the spot at state-level competition. During the season coaches switch runners between JV and varsity according to their performance. According to boys cross country team's assistant coach Jen Meyer, there are only six members on the boys varsity team for certain now. Coach Merriman is excited to see who will stand out and fill in the varsity position.
"For the seventh spot, I don't want to give any names because that spot is wide open," Merriman said. "We don't know for sure. So I'm excited to see over the next few weeks who [will] step up to clean that spot."
However, the team is still optimistic about the season. Central's cross country team has a very good record in the past, and the athletes are hoping to go to state this year.
"Right now we're still figuring out how to dial in everything in our head correctly to run our best," Alfonso said. "We were doing pretty well last year, but we had a really young team. Now our young people have gotten older, and now they're faster. This year we're going to make a lot of wins."