Tech support struggles to keep up with district needs
Parkway's transition to virtual school has led to a backlog in tech support requests
Since the announcement for virtual school, Parkway's Technology Specialists have been forced with the task of making online school feasible for almost 20,000 students.
Doing so has proven to be infinitely difficult and has led to a backlog in requests for tech support over the past several weeks. 
Elliott Reed has been working in Parkway for the last five years as a Technology Specialist for Hanna Woods and Wren Hollow elementary schools. He has been working in Information Technology since 2011.
Reed describes the difficulties brought by this dramatic shift in learning, comparing the obstacles they face now compared to the usual issues they face.
"The largest factor now is that normally we're just supporting teachers and students in classrooms. With the shift to virtual learning, we've been handling all those issues, but remotely, plus home network connections, router issues, and every problem takes a lot more time to resolve because we can't just pop into the home to see what's going on firsthand," Reed said.
While the at-home setting does provide an uncharted territory filled with new issues, Reed does take in consideration the time of the year.
"The start of the school year is always our busiest time," Reed said.
Technology Specialists do not receive the summer off quite like teachers do. They spend their summers working on projects for the next school year. This year, Reed's projects included the expected upgrading of the "district print and imaging servers." However, this also year presented more issues than normal.
"This year we had all that, plus the unboxing, cleaning, and prepping over 10,000 student Chromebooks, and then distributing them–that was three weeks of intense effort in the lead up to the start of school," Reed said.
This has all led up to a backlog where it may take several days for a response after emailing or calling in a request for tech support. 
"We're responding to support requests on a first-come, first served basis, and have been since teachers returned. In a normal school year, we can prioritize issues and attend to them by urgency level. That hasn't been possible with the volume of calls and emails we've received," Reed said.
Reed describes how this has presented a burden that goes beyond the 9-5 workday.
"Many of us work during our lunches and over the weekend to respond to requests and issues. We know many teachers, students, staff, and parents have had to wait days for a response, and I don't know anyone in the department who thinks that's acceptable," Reed said.
However, while the wait time is starting to subside, Reed adds the worst is yet to be behind them.
"I don't think we're at the baseline just yet, but as teachers and students figure things out and get more comfortable with the software and the remote learning environment, we expect email and phone call volume to continue sliding downward toward that baseline, and response times to improve as a result," Reed said.
But the hard work started long before the first week of school and long before summer even started.
"I don't think any of us have had an average day since March. There's been a lot of evolution over the past months as we try to find the best way to get technology into student and teacher hands and support them, while maintaining social distancing and personal safety guidelines–for ourselves and everyone involved," Reed said.
To help out those spending all their spare time trying to help the families of Parkway, Reed suggests students look at the Technology Support Page on Parkway's website prior to contacting the Technology Help Desk, as Reed states, "the vast majority of questions we get are answered [there]."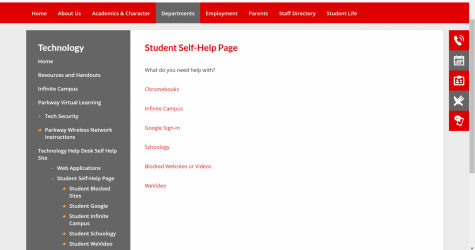 Additionally, to help Technology Specialists better help you, Reed implores students to do the following when contacting the Help Desk.
"If you put anything in an email to the Help Desk, please give us as much information about the error or problem that you can: what were you doing, or trying to do, when the error came up and you got stuck," Reed said.  "If a link isn't working, send it to us to test on our end. If a student is having trouble accessing a Zoom class, tell us the name of the student and your class."
While Reed notes there is no single, general issue students run into, they are largely similar issues along the lines of, " forgotten passwords, login issues, printer issues, damaged/not working equipment, etc.." 
However, a change in learning venues have led to a large shift in requests.
"Since we've implemented Zoom and Schoology for virtual learning, requests and issues for those platforms–both individually and combined–easily have had the largest share of inquiries since school started," Reed said.
Considering the hard times brought on by the pandemic, Reed adds the sense of community and understanding both himself and those requesting help from tech support have felt.
"I'm actually overwhelmed by the degree of community support, understanding, and patience we've received as a department over the past six months. Many parents are unemployed, or working from home while trying to help their child," Reed said. "There's still a pandemic out there, and technology issues can easily magnify that already high stress level. But the vast majority of people we help are thankful and supportive, and they understand that we're doing the best we can with the resources we have available."
Not only are the families of Parkway proving to be considerate, acknowledging the struggles of tech support, but Reed also continues to uphold his priority of helping people in the most efficient and seamless way as possible.
"Personally, I think that the best technology is seamless and invisible to the user, and that includes our support. I try to do as much as I can outside of the classroom environment to minimize disruption to my teachers' classes."
Reed also remarks how this belief is upheld through all who work in Parkway tech support.
"I'm proud to say that I work with some of the brightest and kindest people I've ever worked with, and every single one of them cares about what we're doing," Reed said. "We know we're not perfect, but every person in Technology strives to solve problems as quickly as we can, fix our own mistakes, put things right, and do better the next time. I think most people understand that, and I don't think any of us take that gift for granted."